We came across this post on Facebook page My Grandfather's Road: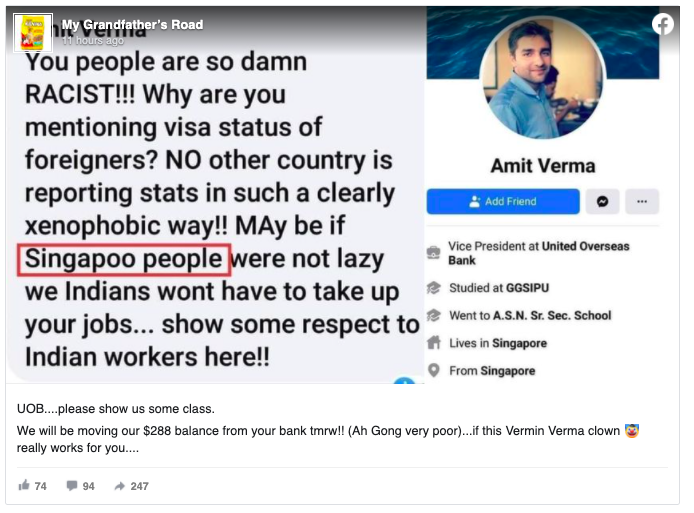 The post comes with two screenshots, one of which is a Facebook profile of an individual named Amit Verma and another a screenshot of what looks to be a comment made by the same individual. The context of where the comment was posted is unknown.
At time of publication, the post has been taken down.
The point of contention lies in the fact that the individual appears to have listed himself to be a Vice President at United Overseas Bank (UOB).
This has led to multiple netizens coming forth to hound UOB for an answer on their official Facebook page: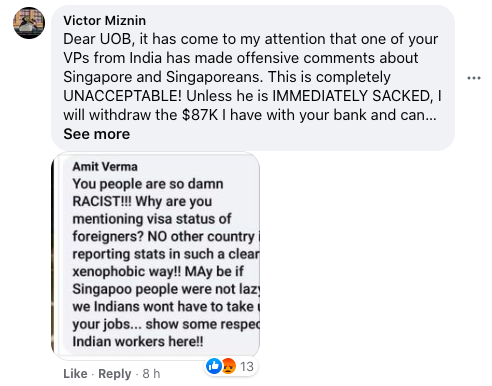 The situation is also being heavily discussed on forums like Hardware Zone and SGTalk.
Facebook user, UOB clarifies
UOB has come forward to reply to these queries, stating that the Facebook user is "not a UOB employee" and that they have reported the user to Facebook.
UOB has reiterated in a Facebook post stating that "there is no such employee at UOB" and that they have reported this incident to Facebook and the Singapore Police Force who are investigating the matter.
A Facebook user "Amit Verma", claiming to be a UOB employee, has been posting inflammatory and provocative comments on…

Posted by UOB on Monday, 21 September 2020
They also urged the public to "not be drawn into anti-social comments or repost content that divides us".
'Amit Verma' profiles on LinkedIn and ContactOut
A screenshot of what could be the individual's last post is also being circulated. In the post, the individual revealed that his account was hacked and urged members of the public to not pay attention to recent posts.
At time of publication, the Facebook profile of the individual has been taken down.
While UOB has stated that the Facebook user is not an employee of theirs, a quick Google search leads us to a LinkedIn profile that shows an individual of the same name having listed himself as a Vice President at UOB.

The profile has been taken down from LinkedIn, and we are unable to ascertain if the information reflected is updated or even accurate.
Google search results also led us to a page on ContactOut:
The page states that the individual is a 'Murex Environment Management Analyst' at UOB. It is uncertain when the last time this information was updated.
While the photos used on Facebook, LinkedIn, and ContactOut are different, there is some resemblance between the individual in all three.
This brings about three main questions:
Are all three profiles of the same individual, or is this a case of same name, different person?
UOB has mentioned that the Facebook user is not a UOB employee, but is this referring to his current employment status (i.e. he is CURRENTLY not a UOB employee), or was he never an employee of UOB in the first place?
If the individual's Facebook page was hacked, who was the perpetrator and what was his/her intentions?
We have reached out to UOB for further clarification on the LinkedIn and ContactOut profiles and will update the post when we get a response. For now, it is false that the author of the comment is a Vice President working at UOB.