We came across this message on Telegram: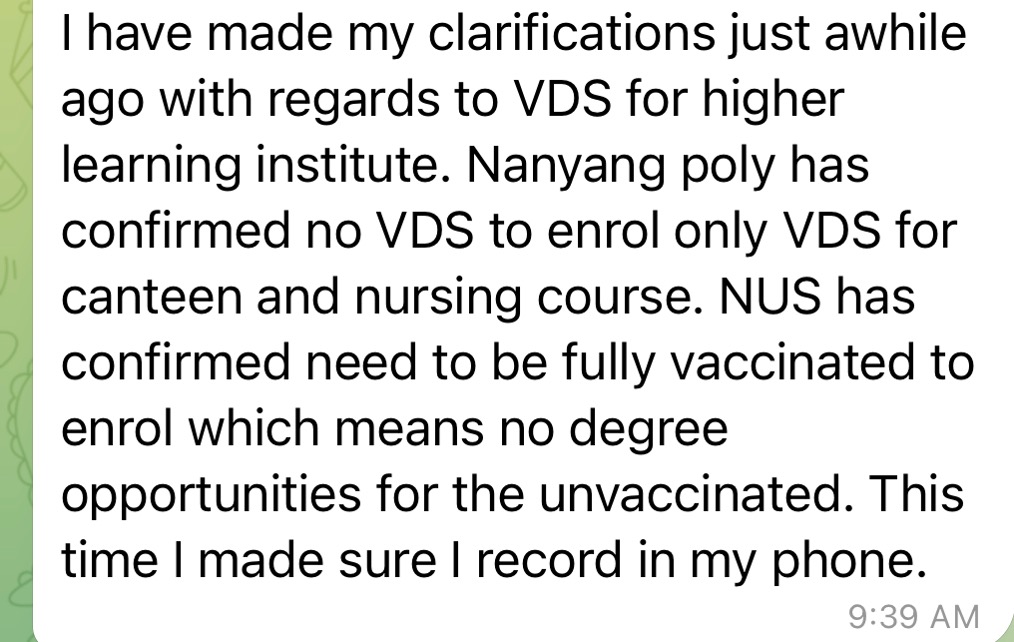 According to the post, the Vaccination Differentiated Safe Management Measures (VDS) for the National University of Singapore (NUS) require individuals to be fully vaccinated to enrol in the university, resulting in there being no degree opportunities available for the unvaccinated.
When we conducted our research on this, we found that while there was no information available on vaccination requirements for enrolling, there were guidelines present for VDS in universities. According to the FAQ page on COVID-19 related matters from the Ministry of Education (MOE), indoor and outdoor mask-on activities as well as outdoor mask-off activities for Institutes of Higher Learning (IHLs) were not vaccine differentiated, with the only requirement being that they had to be limited to groups of five.

According to an NUS advisory on VDS dated 12 January 2022, unvaccinated students will still be allowed to return to campus, however they are required to present a negative FET (Fast and Easy Test). For the FET, students are required to perform a self-swab COVID-19 test before uploading the test results onto the NUS mobile app.
Based on existing guidelines then, the claim that individuals are required to be fully vaccinated in order to enrol in NUS is unproven although there are guidelines currently in place for unvaccinated students to return to campus. We have reached out to NUS for clarification and will update this article pending their response.