We were alerted to a post on Facebook pointed out by a fact-checking partner and AFP FactCheck: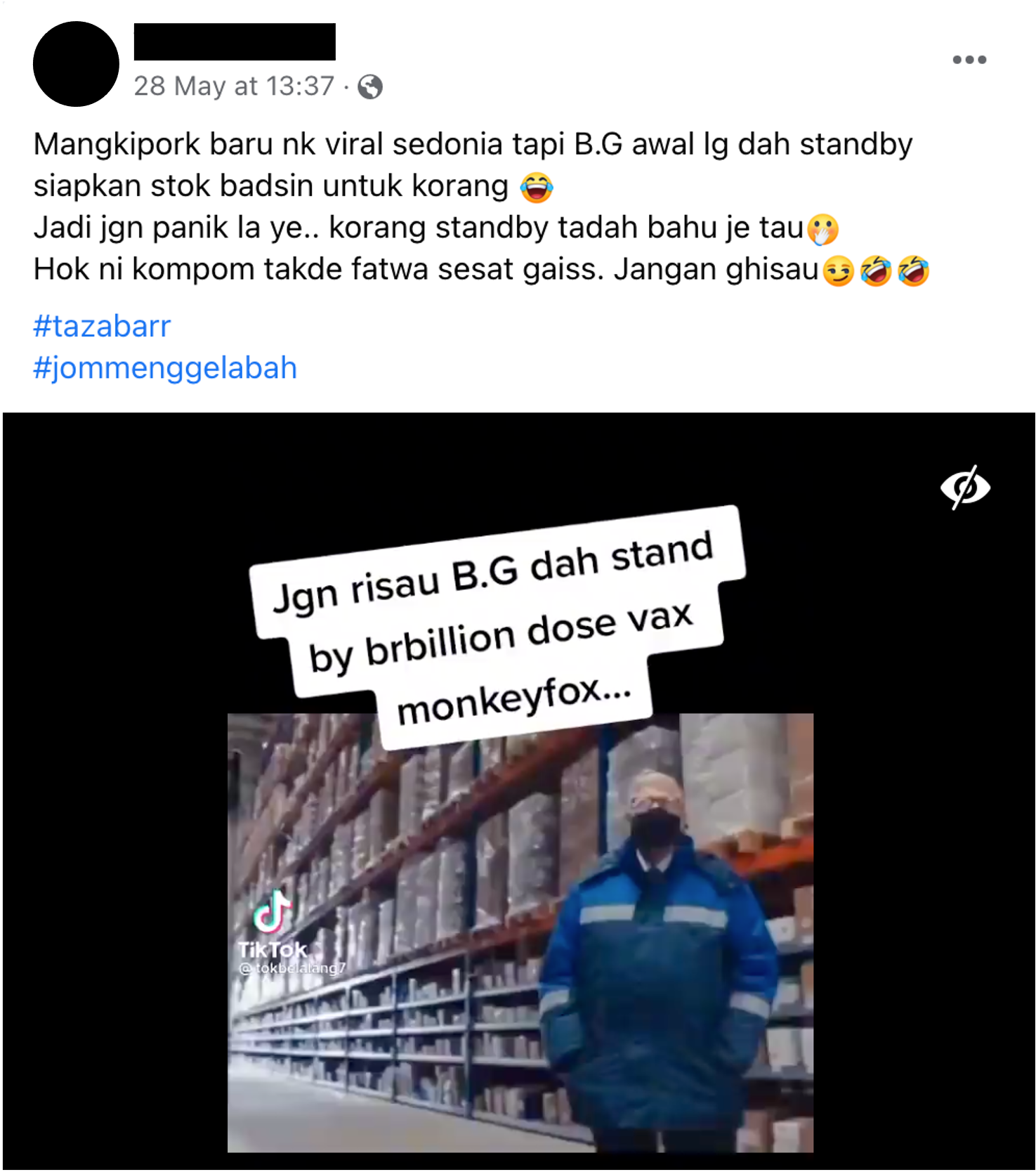 Along with a caption, the author of the post, who is said to be Malaysian, shares a video showing Bill Gates walking around in a warehouse and people getting injections.
According to translations by AFP FactCheck, the author's caption translates to saying that "Monkeypox is about to go viral worldwide but B.G (Bill Gates) already has a vaccine stock on standby for you all". This coincides with the text on the video which says "Don't worry, B.G is already on standby with billions of monkeypox vaccine doses…".
The author also suggests that the Malaysian religious authorities would issue a fatwa, a formal Islamic law ruling, which would make the monkeypox vaccine mandatory.
What is actually said in the video?
It is important to note that the video itself gives a clue on the veracity of the claims.
In it, we hear Bill Gates talking about how the warehouse he was touring is very "modern and has great refrigeration capacity", and how it is "impressive to see millions of COVID vaccines all in one place". Further on in the video, Gates talks about delivering "billions of these vaccines" and how challenging it is to deliver them "out into the world".
As seen, it is already mentioned that the vaccines he's referring to are those for COVID-19, and not monkeypox.
In addition, the Bill & Melinda Gates Foundation have even explicitly told AFP that the claim is "false".
A reverse image and keyword search also found a longer version of the video posted on Gates' official Twitter and YouTube pages on 18 May 2022.
This warehouse is cool – for many reasons. pic.twitter.com/siqvwnzo2D

— Bill Gates (@BillGates) May 19, 2022
We read on the YouTube video's description that the video covered Gates' visit to the HOPE Consortium in Abu Dhabi, and how during his visit, he saw "how they're storing millions of COVID-19 vaccines on the way to people throughout the region".
Therefore, it is false that Bill Gates has a warehouse full of monkeypox vaccines.