We saw this rather startling claim that the Centers for Disease Control and Prevention (CDC), which is the United States' National Public Health Agency, has said AIDS-associated diseases and cancers have increased by 338x since the Covid-19 vaccine was rolled out. 
The tweet was made by the account @LeadingReport, which describes itself as a "leading source for breaking news" and has over 47 thousand followers. Other posts by this account focus heavily on vaccine issues and American politics. In some posts, Leading Report will add a link to the article from which the "breaking" headline was taken. However in this specific claim, no sources are cited and no further information is provided.
We searched for articles making similar claims to find where this headline originated and found the exact claim made in an article from October 2022 by The Expose. This media platform describes itself as bringing "truth supported by facts" to challenge "fear-mongering, lies and propaganda perpetuated by the mainstream media."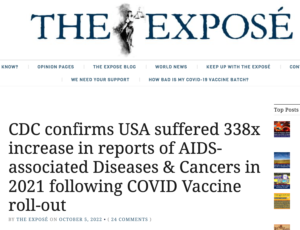 However, while the article cites studies and publicly available health data, the headline is sensationalist and misrepresents both the cited data and the article's own content.
Rather than the CDC "confirming" any clear statistic or numbers, the article itself backtracks with language such as "probably" and "strongly suggests." Although the headline strongly implies that the CDC specifically carried out research on the vaccine being associated with "AIDS-associated diseases and cancers," it is the article's own authors who have used CDC data to draw conclusions in support of their premise.
While the headline uses terms like "AIDS" and "Cancers," the article actually broadly refers to all immunodeficiency disorders; within which AIDs and certain cancers fall. This is an oft-claimed (and oft-debunked) premise in itself. We have also fact-checked several similar claims in the past.
The article uses the Vaccine Adverse Event Reporting System (VAERS) for their statistics, deriving "338x" from that data. However, given that VAERS is a public database accessible to anyone to report and contribute to, it is not a reliable source on which to base solid conclusions – something VAERS emphasises clearly on their website.
As fact-checked by Lead Stories, the CDC has stated (as of May 24 2023) that they have not detected "any unusual or unexpected patterns for HIV or AIDs-associated diseases and cancers…that would indicate that COVID vaccines are causing or contributing to these conditions."
Therefore, the CDC has not said or "confirmed" that AIDS-associated diseases and cancers have increased by 338x since the Covid-19 vaccine. The article on which this claim is based uses misleading phrasing to present their own speculative analysis. We therefore give this claim a rating of false.