Today (29 November) marks the launch of the vaccinated travel lane (VTL) between Singapore and Malaysia. Under this VTL, up to 1,440 Singapore citizens, permanent residents and long-term pass holders in Malaysia will be able to enter Singapore daily using designated bus services, without the need for quarantine. The same applies for up to 1,440 Malaysian citizens, permanent residents and long-term pass holders in Singapore.
While this is definitely great news for Malaysians staying in Singapore, Singaporeans staying in Malaysia, or those who simply want to commute across the border, a message and Facebook post which went viral last week might have dampened the spirits of those with such plans.
In a Facebook post we came across, we see a netizen sharing a video of what appears to be a snatch theft that was caught on camera:
On the video, we see a watermark stating: "In JB snatch thieves waiting out Square Mall". It is assumed that "Square Mall" refers to Johor Bahru City Square mall, a popular destination for Singaporeans travelling to Johor Bahru.
Below is the video in full, in case the post gets taken down:
It is rather curious as to how there appears to be many individuals (including one in a bright yellow vest, who looks suspiciously like a security personnel) standing around almost in anticipation of the event:
We also see an individual holding a camera phone who appears to be recording the entire incident rather calmly: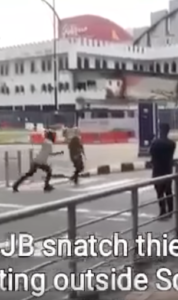 Turning up the volume of the video, we also hear someone in the background yelling: "Ready…1, 2, 3…action!", just before the motorcycle on which the thieves are on sets off.
Regardless, sentiments of the author and most shares and comments of the post seem to lean towards individuals believing that this is evidence of "snatch thieves" waiting to pounce on victims in Johor Bahru.
Ironically, video was actually part of a police campaign
In one of the many shares, however, we see a netizen clarifying that it's actually a video taken during the filming of a crime prevention video by the Johor Bahru police.
In a 2020 video posted by the Johor Bahru police urging members of the public to stay safe, we see the same scene in the circulated video from a different angle (and in much better quality):
Here's a side-by-side comparison of both videos:
Therefore, it is false that the video being circulated is one that shows snatch thieves waiting outside City Square in Johor Bahru.
It is also important to note that on 24 November, the Johor police had refuted a similar claim:
Johor police chief Ayob Khan Mydin Pitchay said that the "police would take stern action against irresponsible parties for spreading fake information, rumours or unverified news on the matter", and added that overall crime index in the state for the year as of 23 November "fell by 2,610 cases or 39.67 per cent, and the situation is under control".
He added: "Snatch thefts in Johor in the same period also recorded a fall of 125 cases which is equivalent to 77.64 per cent compared to last year. Similarly, motorcycle thefts also dropped by 1,099 cases or 51.05 per cent."