[Editorial update, 20 March, 8:20am] The article has been updated to include the official clarification from the Ministry of Health.
–
We have been alerted to a screenshot of a Facebook post in the group "Coronavirus COVID-19 Updates in Singapore".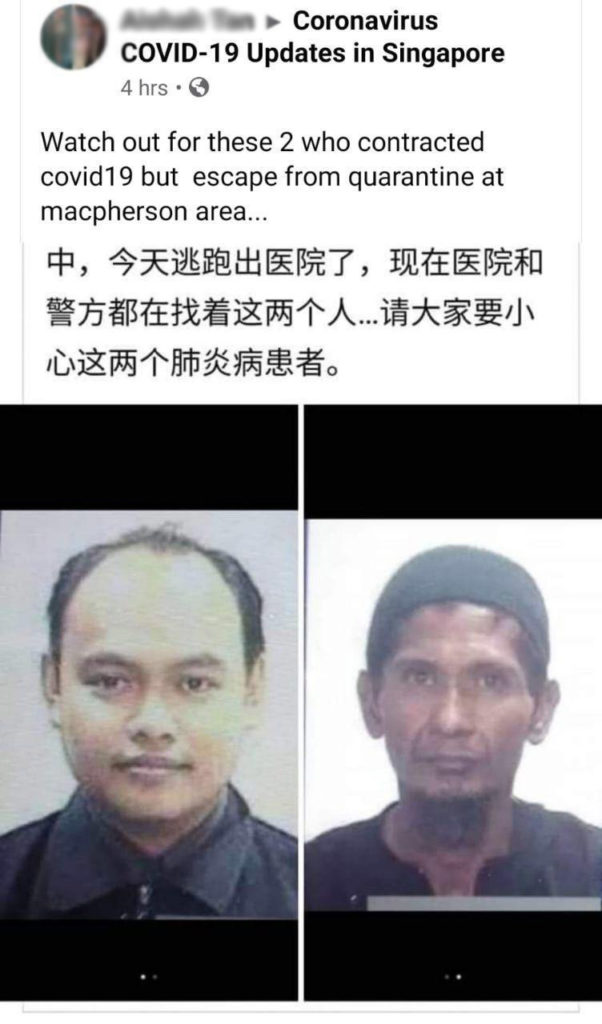 The post featured headshots of 2 men with the caption "Watch out for these 2 who contracted covid19 but escape from quarantine at macpherson area (sic)".
The text in Chinese translates to state that two COVID-19 confirmed cases have escaped from the hospital, and that staff and the police are currently searching for them. Do note that the sentence in Chinese is incomplete, and that there is no mention of the MacPherson area in the Chinese caption.
Confirmed cases escaped from quarantine?
Beyond how vague the information provided is (Who are these individuals? Which cases are they? Why is there a mention of the MacPherson area?), it is important to note that confirmed cases of COVID-19 in Singapore are hospitalised immediately, and not merely quarantined.
More significantly, Malaysian newspaper Sin Chew Daily has already debunked this viral claim in a Facebook post yesterday, calling it fake news.
Additionally, we have reached out to the Ministry of Health and they have provided the following statement:
"MOH is aware of a rumour circulating that two men infected with COVID-19 broke Quarantine Order and ran away from a hospital. This is not true. As of 19 March, 5pm, no confirmed COVID-19 cases left any Singapore hospital without proper discharge procedure."
The claim is therefore false.