We came across this post in a Singapore-based Telegram group, as well as on Twitter: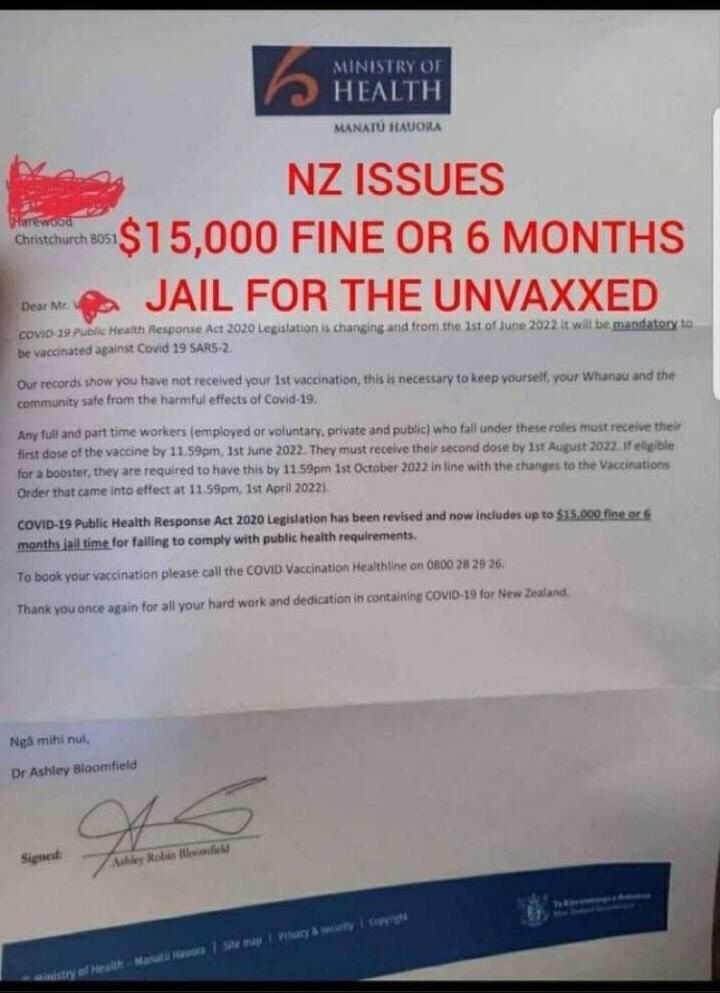 The post claims to show a letter issued by the New Zealand Ministry of Health, bearing the organisation's letterhead as well as the name of its Director-General and Chief Executive, Ashley Bloomfield. It also accurately reproduces New Zealand's COVID-19 vaccination advice call line number.
The letter suggests that due to changes in New Zealand's COVID-19 Public Health Response Act 2020 Legislation that came into effect on 1 April 2022, it will be mandatory to have received their first dose against COVID-19 by 1 June this year. It also suggests that the second dose must have been received by 1 August and those eligible for a booster are required to receive it by 1 October.
Finally, the letter emphasises in bold that the updated legislation now includes a fine of up to $15,000 or a jail sentence of six months for failing to comply with public health requirements, suggesting that the unvaccinated in the country face heavy penalties should they reject the mandatory vaccination.
To investigate these claims, we took a closer look at the document in the post and visited the following official New Zealand government portals:
New Zealand Ministry of Health website
New Zealand official COVID-19 portal
COVID-19 Public Health Response Act 2020 Legislation portal
COVID-19 Public Health Response (Vaccinations) Order 2021 Legislation portal
Distorted facts muddy the waters
New Zealand's COVID-19 law does mandate vaccination for individuals occupying specific roles in the workforce. These include workers in health and disability, border control, quarantine facilities and corrections, as well as some roles in law enforcement, defence and the fire and emergency service. These workers were required to have been fully vaccinated and received their boosters by February or March this year, depending on their role. For the general public, however, there is no vaccination mandate. In fact, New Zealand recently relaxed the vaccine mandate for some workers, including those in the education sector.
New Zealand had also significantly increased the COVID-19 penalties from early November 2021. The penalty for failing to comply with a COVID-19 requirement was raised to a maximum infringement fee of $4,000 from $300 previously, or a maximum court-imposed fine of $12,000, up from $1,000 previously.
Those who intentionally fail to comply with COVID-19 orders, the action of which constitutes a criminal offence, face fines of up to $12,000 or up to six months imprisonment. The maximum criminal offence fine of $15,000 applies to businesses, not individuals. For the general public, being unvaccinated does not make one liable for either the infringement fee or the criminal offence fine.
By combining the appearance of official correspondence with manipulated information, the post appears to be a malicious attempt at disinformation on COVID-19, borrowing the legitimacy of public authorities in New Zealand and leveraging on the fears of the unvaccinated population in having their liberties restricted.
A doctored letter, the smoking gun
While the letter appears legitimate at a first glance, there are a number of inconsistencies upon a closer look that reveal it to have been falsified.
There are multiple grammatical and punctuation errors in the letter that would not be expected from an official document from a country where the English language is predominantly used, such as the following:
Multiple different ways of referring to the virus, including 'COVID-19', 'Covid-19', 'Covid 19' and 'COVID'.
A comma splice (you have not received your 1st vaccination, this is necessary…) and inconsistent expression of ordinals (1st vaccination… second dose).
The date is expressed differently from that in official documents in New Zealand. In the letter, date is expressed as '1st April 2022'. In official sources, ordinals are not used, as shown in the following excerpt from the Ministry of Health website. The similarity of the language used in the letter suggests the text has been copied from this passage, with the dates and the identity of the workers altered.
Ministry of Health website excerpt (Source: https://www.health.govt.nz/covid-19-novel-coronavirus/covid-19-response-planning/covid-19-mandatory-vaccinations):

Original text in letter for comparison:
The footer of the letter also appears to have been lifted from an official website, containing text such as 'site map' and 'privacy & security', which make no sense when included in a printed letter and would ordinarily be hyperlinked online.
On 11 May 2022, the New Zealand website The Spinoff reported that the document was fake and carried a quote from a Ministry of Health spokesman who stated, 'The claim is false. We have been alerted to letters like this one or similar before. We can confirm this is not an official letter from the Ministry of Health.'
As such, the claims in the post and the accompanying letter are both false.