We came across this post on Facebook: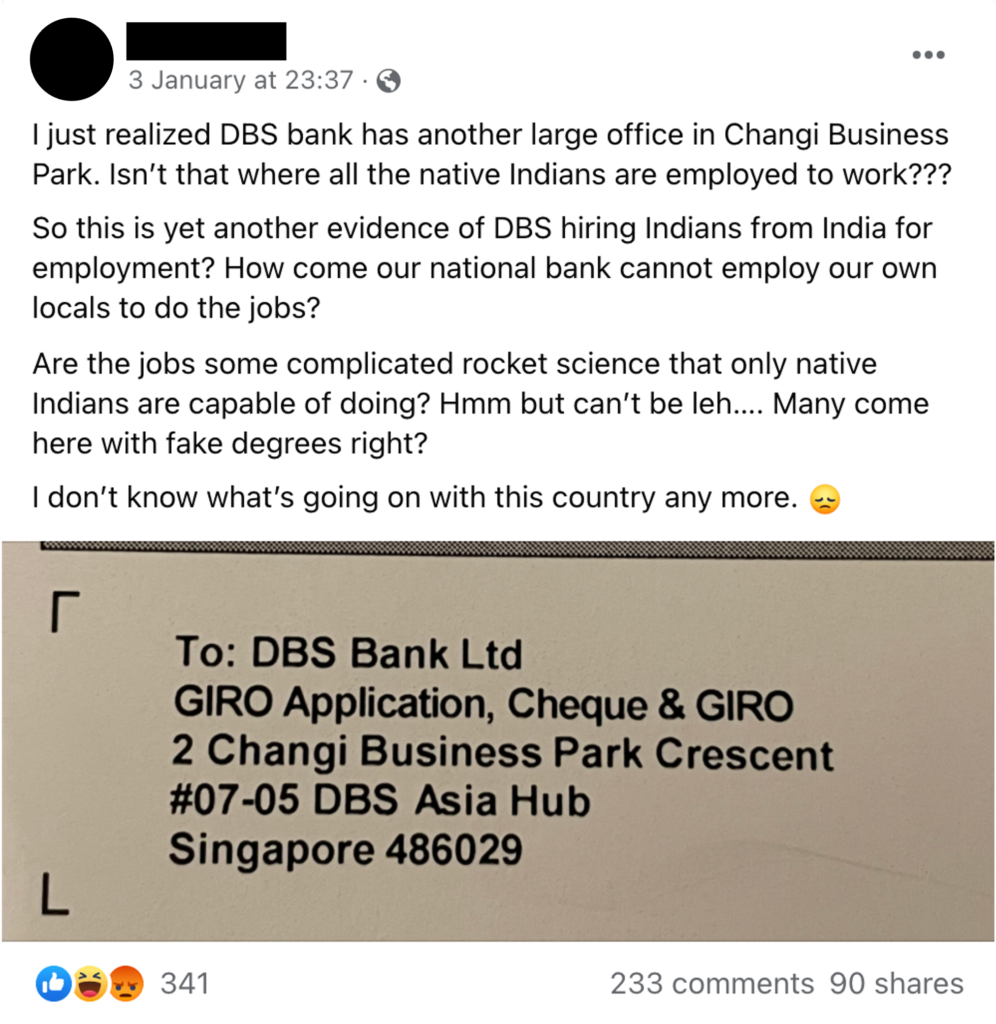 The author of the post shares a photo of what appears to be a letter to DBS Bank's GIRO application, cheque and GIRO department located at DBS Asia Hub at Changi Business Park.
The author then states that Changi Business Park is "where all the native Indians are employed to work", and that this is therefore "yet another (piece of) evidence of DBS hiring Indians from India for employment".
Not the first time insinuations like these have been made
The sheer absurdity of proclaiming that a particular location is where all people of a certain nationality work at aside, the xenophobic undertone and the insinuation that Singaporeans are purposely left out of the hiring process is one that has plagued DBS Bank and Changi Business Park for a quite a while now.
A fact check we did in August 2020 saw a Facebook user posting an image of Group CEO of DBS Bank Mr Piyush Gupta taking a 'wefie' with a large group of individuals.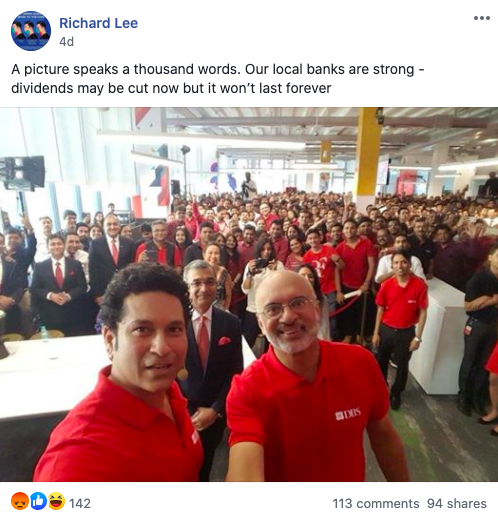 Facebook users who commented seemed to believe that the picture was one depicting a DBS office in Singapore with a large number of employees who are non-Singaporean. In turn, they posted comments that were either hateful towards Indian nationals or suggested that unfair hiring practices were happening at the bank. Eventually, DBS came out to debunk the claims, stating that the wefie was actually taken in Mumbai.
Yet another fact check we did later in August 2020 saw a Facebook user alleging that a group photo was taken at a "DBS IT Dept @ Changi". The user also specifically pointed out that the photo was not taken in the Indian cities of Mumbai or Chennai.
While key details of who took the photo and when the photo was taken was not available, a majority of comments on the post similarly leaned towards the xenophobic variety.
DBS Bank had later clarified in an email with us that photo was taken at an application security conference held at DBS Asia Hub 2 in Hyderabad in 2019.
A background of Changi Business Park
While the author has seemingly just found out that DBS has an office located at Changi Business Park, the building has actually been open for over a decade now.
In a 2010 article on Singapore Business Review about the facility, the (then) newly-opened 9-storey building is reported to "house more than 3,000, or over 40% of DBS' Singapore-based staff", and will "accommodate most of the bank's technology, operations and support functions".
Another Facebook user in the post also commented that Changi Business Park is "where the banks conduct their backend operations":

When we did a check on Google Maps, we see that besides DBS Bank, banks like Citi and Standard Chartered are also located in the vicinity. However, it is uncertain if, like the Facebook user said, these are where backend operations for those banks are done.
When we did a check on CapitaLand's writeup Changi Business Park, we read that the area is also home to multinational companies like Huawei, Ericsson, Federal Express, UBS, Credit Suisse, JP Morgan, among many others.
Therefore, unless all these companies are somehow basing their Indian national employees exclusively at those particular offices, the claim that DBS Bank having an office at Changi Business Park is "evidence" that they are hiring Indians from India and not employing locals is false.