Did Buffalo Bills player Damar Hamlin collapse because of the COVID vaccine?
The harrowing collapse of Buffalo Bills player Damar Hamlin on Tuesday shocked fans and the public, with people all over the world sending well wishes. However, this incident also sparked a new wave of claims and insinuations being shared around on social media. Namely, that Hamlin's collapse was the result of the COVID vaccine and that he is just one of many young athletes whose hearts have collapsed after being vaccinated.

Shortly after the Hamlin's collapse, prominent and vocal anti-vaccination individuals such as posted their thoughts alongside numerous social media users. Dr. Peter McCullough, who is a cardiologist, wrote "if Damar Hamlin indeed took one of the COVID-19 vaccines, then subclinical vaccine-induced myocarditis must be considered in the differential diagnosis." He would go on to make several media appearances, producing widely shared soundbites on social media.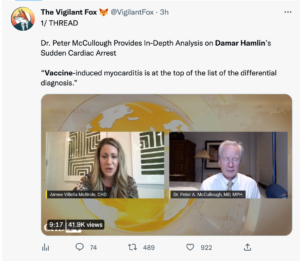 Another commentator Steve Kirsch drew on McCullough's statements and concluded that "it now appears that the vaccine likely played a very major role in his injury until proven otherwise. This is simply based on statistics." He cites the precedent of other young athletes having collapsed in great numbers since 2021 as key reason for his opinion, posting an oft-shared chart by the website GoodSciencing.com to illustrate his point. However, many claims made by GoodSciencing.com about the increase in athlete deaths have been either debunked or shown to be misleading or inaccurate.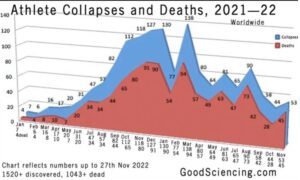 While myocarditis symptoms have been known to happen in a small minority of vaccinated individuals, almost all such documented cases have occurred within a week of vaccination. The Centre for Disease Control and Prevention (CDC) stated that among more than 123 million people who received COVID-19 shots, it had only detected 131 cases of myocarditis. Most of those cases involved adolescent and young adult males, and none of them died. In fact, as other fact checks have also pointed out in response to similar claims, COVID itself is more often the cause of myocardial side effects.
The past few days have also seen other medical professionals weigh in. On one hand, commotio cordis has been mooted by numerous medical professionals as a likely cause. Commotio cordis occurs when a blow or impact to the chest area at a specific point in the heartbeat cycle causes cardiac arrest. While rare, this has been observed predominately in sports such as baseball and hockey. The Buffalo Bills have released a statement that Hamlin did indeed suffer from cardiac arrest after "contact" but have not commented on its cause.
While updates continue to be released, it is important to remember that the public is not privy to the full details of Hamlin's medical information. Without all the medical information being released, it is impossible to be completely certain about what caused Hamlin's cardiac arrest. Apart from commotio cordis, it is also possible that he has underlying heart conditions not known to the public.
However, given existing statistics on vaccine related myocarditis and the shaky nature of the "evidence" produced by those who suggest vaccines caused Hamlin's cardiac arrest, we give this claim a rating of likely false.