We came across this post on Twitter:
The claim, circulating days after the FBI had raided the former US president's Mar-a-Largo home, reportedly looking for nuclear documents among other confidential classified items taken by Trump when he left the White House, came after news that Trump had sent an email and text messages asking for donations after the raid.
When we conducted a search, we found a screenshot from New York Times reporter Shane Goldmacher who tweeted a screenshot showing part of an email that features the same timestamp (10:12am), subject, sender address, and red banner. Additionally, a report on the claim by Newsweek cited Trump spokesperson Liz Harrington who confirmed that the screenshot was doctored and "totally fake".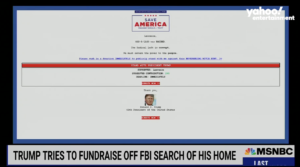 In conclusion then, it is false that Donald Trump sent a fundraising email with "nuke codes." The screenshot appears to be a digitally altered version of a fundraising email sent days earlier that made no mention of "nuke codes."