No. This is simply satire.
On 14 March 2019, a satirical piece written by Wakeup.Sg purported that:
"The Malaysian Government has announced that it will cease all disputes regarding the 1962 Singapore-Malaysia Water Agreement and accept the terms laid out by Singapore.
This announcement came following a new petition by Rachel Chan calling for Malaysia to cease its "reckless attempts to renege on their bilateral commitments". Previously, Malaysia had requested a review of water price after Prime Minister Mahathir Mohamad cited the 3 Sen per 1000 gallon price Malaysia was charging Singapore."
This is entirely fabricated. There has been no such announcement by the Malaysian government and no such petition by a Ms Rachel Chan.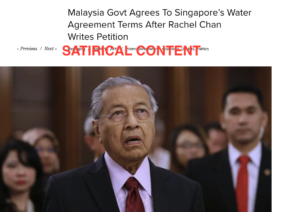 The satirical piece was intended as a jibe at how the Watain concert was cancelled – Many today continue to believe that the Ministry of Home Affairs had given in to a petition started by Ms Rachel Chan which successfully garnered well over 17,000 signatures, asking that Watain be banned from performing due to its satanic influences.
The MHA has denied that its recommendation to the IMDA to ban the performance was influenced by Rachel Chan's petition.