We have been alerted to this video being shared on Facebook:
The video comes with the caption: "Stupid PAP paying foreign agents to create propaganda!".
Posted on 14 Jun, the 1:08 minute-long video is a mashup of what seems to be three separate clips, one of which depicts a group of individuals in sunglasses walking around with a framed up banner with phrases like "Vote PAP" and "SDP SUX". In a few frames, "I love PAP" in Chinese is also seen.
The second clip was taken from 1993 Hong Kong comedy Flirting Scholar, and the phrase "Vote For PAP" in English and Chinese can be seen. In this clip, it's quite evident that some (pretty skilled, we have to admit) editing was done.
Below is a side-by-side comparison of screenshots we took from the movie (left) and the video on Facebook (right):

The final clip was taken from 1995 Hong Kong comedy A Chinese Odyssey: Part Two.
At time of publication, the Facebook post has been shared 68 times and viewed over 3,400 times.
The comment section of the post reveals mixed sentiments towards to the post and claim. There are commenters who are convinced that the video is legitimate and launched into criticisms of the PAP, while there are also those who assert that it was obviously edited, with one even suggesting that this was created by "foreign entities to stoke internal problems among [Singaporeans]".
The answer is in the comments
While it's apparent that there was editing involved in the 2nd clip, finding the original source of the first clip isn't as straightforward.
However, we found the answer in the comments section, with a Facebook user sharing a link to a video posted on the official Facebook page of Vietnamese musician ST Sơn Thạch.
The video was posted on 31 May, and seems to have been created to celebrate the musician's TikTok account hitting the 1 million followers milestone.
Doing a quick check on his TikTok account, we see that the same video was posted on 31 May.
Below are side-by-side comparisons of the video posted by the Facebook user on 14 Jun (left) and on ST Sơn Thạch's account on 31 May (right):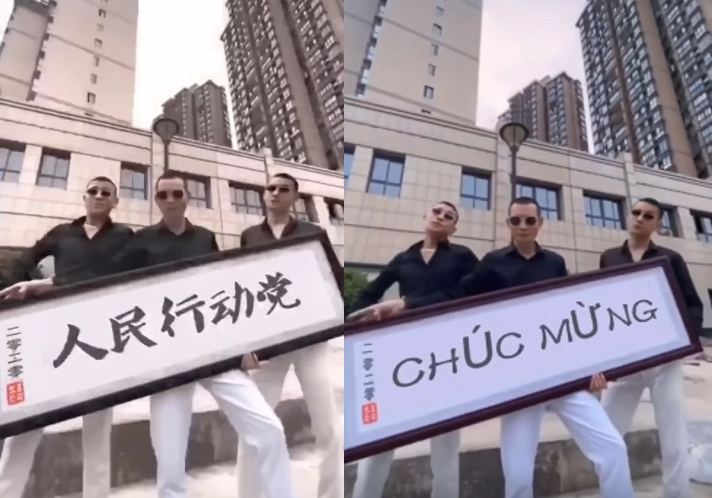 It is also important to note that in certain parts of the video posted by the Facebook user, what appears to be a watermark seems to have been blurred out.
Below is a side-by-side comparison of the same scene (edited video on the left, original on the right), and what could have been potentially hidden:
Therefore, we rate the claim that the PAP paid "foreign agents to create propaganda" in the form of this video as false.