We came across the following post on Facebook: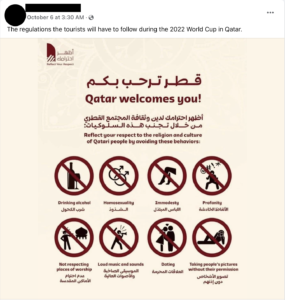 The post claims to show the regulations tourists will have to follow during the 2022 FIFA World Cup scheduled to be held in Qatar between 20 November and 18 December. The sporting event which will be the first World Cup held in Winter has dealt with a great deal of controversy, including but not limited to allegations of human rights abuses along with bribery and corruption in the 2022 World Cup bidding process.
According to the post, visitors to Qatar for the World Cup are asked to avoid eight behaviours. These are "Drinking alcohol, homosexuality, immodesty, profanity, not respecting places of worship, loud music and sounds, dating, and taking people's pictures without their permission."
When we conducted a reverse image search, we found that the poster had originally been posted by Reflect Your Respect, a Qatari campaign that seeks to encourage expats to dress modestly. According to Doha News, a local Qatari publication, the campaign had launched in 2014 and their social media platforms have become more active in the lead up to the World Cup.
Meanwhile, the official Qatar World Cup Twitter account released a statement that the poster on October 7 that the poster is not an official 2022 World Cup document and contains factually incorrect information. Additionally, the Supreme Committee for Delivery & Legacy, FIFA World Cup 2022 (Q22) and FIFA will shortly be issuing an extensive fan guide that disputes a lot of the information being circulated."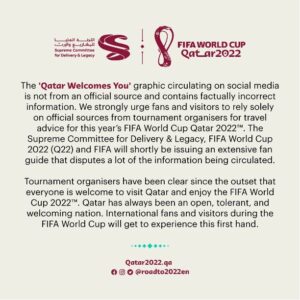 In conclusion, while the poster is an actual document that has not been digitally altered, the claim that tourists will have to follow the regulations shared during the Qatar World Cup is false. The poster is from Reflect Your Respect, a local campaign in Qatar that promotes modest dressing among foreigners.