Last week, this video went viral on social media:
The video depicts what appears to be an individual throwing an orange-coloured e-scooter into a body of water. In the background, the laughter of other individuals can be heard, along with a robotic voice saying "Please stop".
A watermark with @robinhoot.sg can be seen in the video, and we're led back to the original post on robinhoot.sg's Instagram page, which comes with the caption "CNY tribute to Aquaman".
Given the low quality of the video and lack of context of when the video was shot, it is hard to prove or disprove whether or not the incident happened in Singapore.
The video was also shared on Singapore Uncensored, Beh Chia Lor – Singapore Road and Singapore Incidents, garnering many shares and angry comments from netizens. The article on Singapore Uncensored even points out that the individual is 'ang moh' (Singlish for Caucasian), and was doing it to "celebrate CNY":

While it was not specified when and where exactly the video was taken, it seems like many assumed that the incident happened in Singapore and called on the National Environment Agency (NEA) or Singapore Police Force (SPF) to look into the matter.

Some commenters, on the assumption that the individual was a foreigner, also pointed out that the local authorities would simply let him off with a "stern warning".
Did the incident really happen in Singapore?
A few days after the video went viral on social media, e-scooter and e-bike operator Neuron Mobility came forward to clarify that they are aware of the circulated video and that the incident did not occur in Singapore but in Australia instead.

While Neuron Mobility was indeed founded in Singapore in 2016, they do not operate e-scooters here.
A side-by-side comparison of the e-scooter listed on Neuron Mobility's website and the one in the video also reveals the same orange-coloured e-scooter with a white helmet attached to it.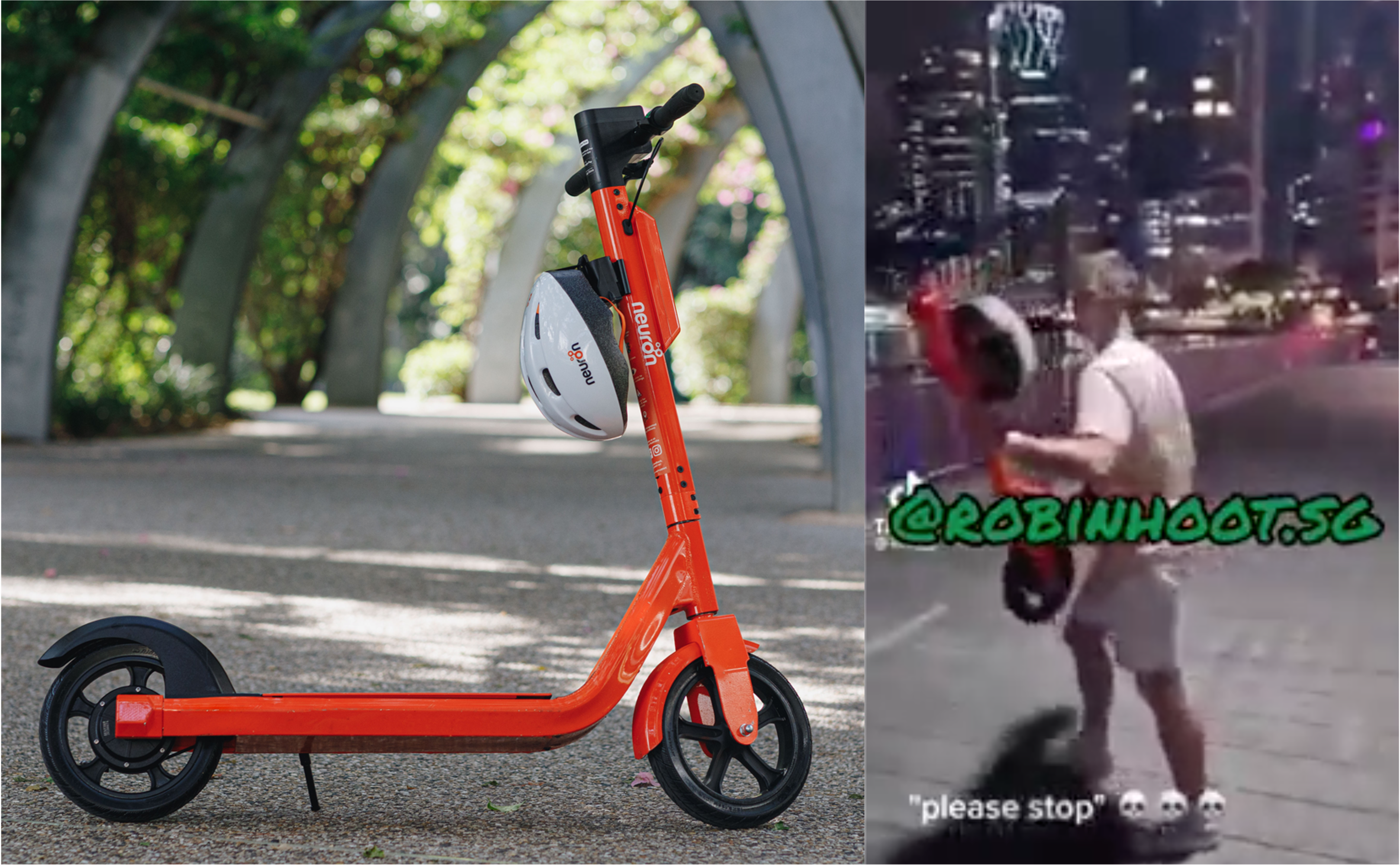 Therefore, it is false that an individual threw an e-scooter into a river in Singapore.