We came across the following post on X, formerly Twitter. The post also had been shared in Telegram channels, including one based in Singapore with over 4,300 members: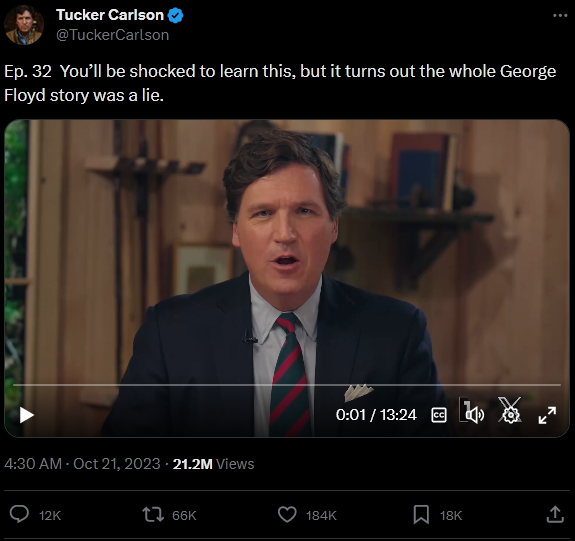 The post is by Tucker Carlson, an American conservative political commentator who, until recently, was best known for hosting the Tucker Carlson Tonight show on Fox News. Carlson was fired from Fox News in April this year, and has since begun a show on X now called Tucker on X.
Carlson's post includes a video segment in which he elaborates on his claim that 'the whole George Floyd story was a lie'. George Floyd died while being arrested by Minneapolis police, leading to nationwide protests. Derek Chauvin, the officer who had restrained Floyd by pinning him to the ground with a knee on his neck for over nine minutes was later convicted for murder.
Carlson said that Chauvin 'didn't murder George Floyd', and they knew it because of a new court case now underway in Hennepin County, Minnesota. He said that the lawsuit had unveiled evidence from the county's medical examiner that indicated Floyd's passing was 'not due to asphyxiation or strangulation', but rather an 'inadvertent overdose' of the drug fentanyl.
The claims had been republished across multiple websites known for biased reporting and promoting conspiracy theories, including the Daily Caller, ZeroHedge and InfoWars. We found little reporting of this across the rest of the media landscape.
An Obscure Detail in an Unrelated Case
When we looked into the details mentioned by Carlson, we found that he had been referring to a lawsuit brought by the former Hennepin County prosecutor Amy Sweasy Tamburino against her former boss, Hennepin County Attorney Mike Freeman.
Sweasy was a prosecutor in the case against Chauvin, but had withdrawn from the case after she disagreed with the charges Freeman recommended against Chauvin, believing that the charges 'violated professional and ethical rules'.
She later filed and won a discrimination complaint against the county and Freeman in May 2022, alleging sexist treatment and retaliation, as she had received different treatment from Freeman as compared to three other male prosecutors who had made the same objections.
Sweasy brought a new lawsuit against Freeman following the discrimination settlement alleging that Freeman had violated the settlement by retaliating against her and undermining her career. This lawsuit is currently being heard in the Minnesota courts.
As part of Sweasy's case, she submitted depositions that indicated her relationship with Freeman. These included conversations regarding the Chauvin case, including one with Hennepin County Medical Examiner Andrew Baker.
Carlson quotes Sweasy as recalling Baker telling her, 'There were no medical indications of asphyxia or strangulation… Amy, what happens when the actual evidence doesn't match up with the public narrative that everyone's already decided on?… This is the kind of case that ends careers'.
We looked up the court documents and found the quotes to be accurate. A reading of the documents, however, reveals a discussion over the damage to Sweasy's career as a result the disagreements she had with Freeman, and in particular Baker's suggestion that the Floyd case would 'end careers'.
The rest of the deposition focuses on other matters, and there is no evidence to support Carlson's conclusion that the deposition showed 'everyone lied about (the George Floyd case) from the beginning'.
No Contradictions in Autopsy Findings
Looking up older media reports on the trial of Chauvin, we found that Baker had testified that while the fentanyl in Floyd's system had contributed to his death (alongside heart disease), the cause of death was cardiopulmonary arrest caused by the actions of the police restraint. As such, Baker found Floyd's death to be a homicide—death caused by another person.
When reached by Newsweek, a representative for Baker declined to comment on Sweasy's deposition, but said Baker 'stands by the autopsy report'. We sourced the autopsy report and found that it matched the information given in Sweasy's deposition, with no indication of a cover-up. There were no injuries to the neck found, and fentanyl was found in Floyd's blood.

Claims Previously Addressed by Experts
Expert witnesses called during Chauvin's witness trial noted that the lack of damage to the neck muscles did not mean asphyxia did not occur, only that there were no signs of it on the body. Other experts also found that the level of fentanyl in Floyd's system was not at a fatal level.
Various false claims regarding the Floyd case had previously emerged during Chauvin's trial and had been factchecked by outlets such as AP Fact Check, USA Today and Politifact. Carlson's claims contain a combination of some of these debunked claims.
Derek Chauvin, the police officer convicted of the murder of Floyd, has unsuccessfully appealed to the Minnesota Supreme Court to review his case. He has now asked the U.S. Supreme Court to review his conviction, and a decision on whether to hear the case is still pending.
As such, it is false that George Floyd died of a drug overdose. The evidence cited by Carlson contains information that had been reviewed during the trial of Derek Chauvin, which led to a murder conviction that still stands.
This claim has also been factchecked and found to be false by Newsweek.