A recent claim on social media has gone viral, with Canadian Prime Minister Justin Trudeau posting, then swiftly deleting a tweet on his official Twitter page: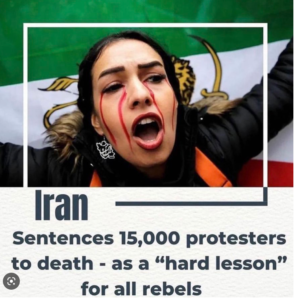 The claim, suggesting that the Iranian regime had decided to impose the death penalty on 15,000 protesters had also been published by Newsweek. In their article that has since been deleted, the publication stated that the country's parliament overwhelmingly voted in favour of the death penalty for protesters as a means to deter further protest.
For context, the protests in Iran began in Tehran, the nation's capital, on 16 September 2022, as a reaction to the death of 22-year-old Mahsa Amini, who had been arrested by the Guidance Patrol for wearing an "improper" hijab. According to eyewitnesses, Amini had been severely beaten by Guidance Patrol officers, an assertion denied by Iranian authorities.
Disinformation at the highest level?
With the tweet by Justin Trudeau having only been up for 12 hours before being taken down and the Newsweek article similarly being deleted, one can infer that the claim might not be all that it seems.
When we investigated the claim, we found that the information was misleading and the allegations largely stem from a November 6 report by the UK-based and Saudi-funded Iran International news outlet regarding a letter signed by a majority of Iranian lawmakers.
In this letter, 227 out 290 lawmakers urged the judiciary to consider severe punishments for those involved in the riots. This was then misconstrued by Western public figures and publications who had alleged that the Iranian parliament "voted overwhelmingly in favour of the death penalty for protesters."
It must be noted however that despite the Iranian parliament's request not being an actual sentence, experts with the United Nations Human Rights Council called the letter's attempt to influence the courts a "blatant violation of the separation of powers" and these detained protesters could yet be sentenced to death.
Based on currently available evidence then, the claim that Iran sentenced 15000 protestors to death is false. Instead, a majority of the Iranian parliament had supported a letter to the judiciary calling for harsh punishments of protesters, which could include the death penalty.