On 11 June 2019, the Singapore Police advised the public to be careful of receiving counterfeit S$50 and S$100 currency notes.  This advisory comes after the Police received multiple reports between March and May of fake 'portrait series' notes being used at various consumer retail businesses.
According to the authorities, 3 men have been arrested and charged with offences related to counterfeit currency notes, such alleged offences having been committed between 25 May and 4 June 2019.
See the various reports on this matter here, here and here.
For immediate attention
The counterfeit $100 notes in reported cases bear the serial number 3AX412083.
Those on the counterfeit $50 notes have these eight serial numbers: 0FF875629, 3DL273922, 4DZ985604, 5HS436415, 5LV797440, 5LP297324, 5CK878136 and 5JH230011.
The counterfeit notes are understood to be photocopies, lacking the standard security features inherent in the actual currency notes (see below).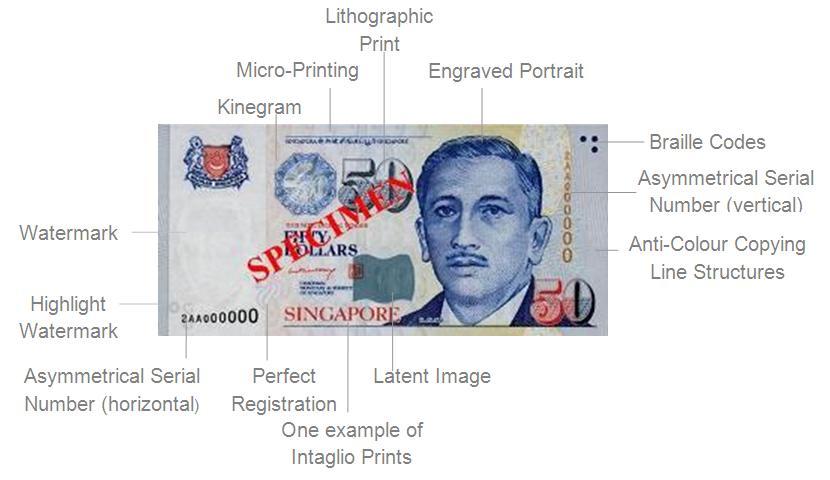 Some Background Information
The portrait series is the fourth set of currency notes.  It was launched in Singapore in 1999.  The series is called the 'portrait series' because the front design of the notes features the portrait of Singapore's first president, the late Encik Yusof bin Ishak.  This series covered the denominations from S$2 until S$10,000.
While the S$2, S$5 and S$10 denomination notes were later introduced in polymer print, all other denominations were printed on paper.
The news reports mention that the counterfeit notes lack security features, giving particular mention to the security features of a watermark and security thread.  These can be found on the diagrams above.  What these 2 security features do are:-
Read more about our currency features in this guide from the Monetary Authority of Singapore here:
KYM 2008