With the conflict between Ukraine and Russia raging, we have come across multiple claims being made about what's happening on the ground at Kyiv, capital of Ukraine.
We came across this screenshot circulating on Twitter: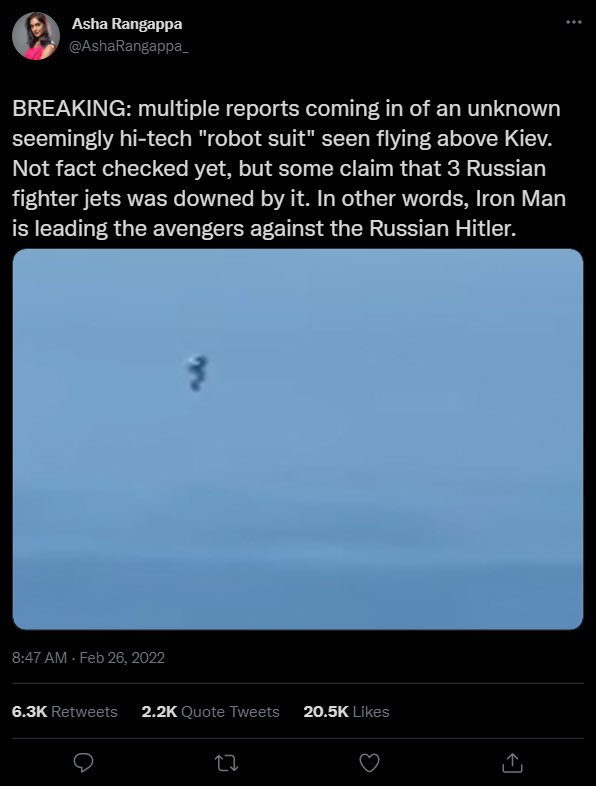 Along with a blurry image of what appears to be space suit of sorts floating mid-air is a caption suggesting that there have been "multiple reports" of an "unknown seemingly hi-tech robot suit seen flying above [Kyiv]" that has downed three Russian fighter jets. The author then states that this is, "in other words, Iron Man […] leading the Avengers against the Russian Hitler". It is presumed that the author of the caption is referring to Russian President Vladimir Putin, and the invasion of Ukraine by Russia.
The author of the caption also makes a disclaimer that the claims are "not fact checked yet".
The screenshot appears to be taken from the Twitter account of Asha Rangappa, who's currently a lawyer and the director of admissions and a senior lecturer at Yale University's Jackson Institute for Global Affairs. She was the former Associate Dean at Yale Law School and prior to that, was a Special Agent in the New York Division of the FBI, specialising in counterintelligence investigations.
Other than it being rather suspicious that someone of her experience and status would make unsubstantiated claims and link it to a fictional character, we have also noted that the screenshot of the tweet is missing the verified 'tick' that appears next to verified accounts such as hers.
Below is an example of another tweet from her account for reference:
We also noted that no such tweet appeared on her account on 26 February 2022, as seen in the first screenshot.
Not Iron Man, but…jet pack man?
When we did a reverse Google image search, we found that the image wasn't of Iron Man (duh) and wasn't even taken near Kyiv.
The image was taken from a video posted in December 2020:
According to pilot Brandy Fogelman from Sling Pilot Academy, she saw a "tiny object hurtling in speed" just off the coast of Palos Verdes (south of Los Angeles) during a training flight on 21 December 2020, and wondered if it could be related to a previous alleged sighting of a "jet pack guy" who was spotted by an American Airlines pilot above Los Angeles International Airport (LAX) earlier in August.
Later in July 2021, the US Federal Aviation Administration (FAA) and air traffic controller recordings from LAX also reported that a pilot saw "an object that might have resembled a jetpack 15 miles east of LAX at 5,000 feet altitude". It was reported that the FBI and the FAA have been investigating the sightings "for months", but are still unable to determine the origin of the jetpack.
Regardless, it is false that the image shows a 'robot suit' flying above Kyiv, and that it is Iron Man "leading the Avengers against the Russian Hitler".
It is also likely false that the tweet was sent from the account of Asha Rangappa. We have gotten in touch with her for clarification, and will update the article when we get a reply.