We came across this claim on Reddit:
According to the photos, Natural Wild Honey, a retailer that sells honey from Indonesia claims that 12 bottles of its product can turn a person from Covid-19 positive to negative in just 18 days.
The company also issued a money-back guarantee, offering to refund the full price of $800 for the 12 bottles should one not be cured of the virus. When we conducted a search, the claim has been written about online by both the Straits Times, the New Paper and AsiaOne, where they note that the Singapore Food Agency (SFA) is currently investigating the claims.
This is far from the first time that retailers have been investigated for making claims that their products are "good for coronavirus" however. An article from the Straits Times dated 6 May 2020 noted that more than 1,600 sellers had been warned by the Health Sciences Authority (HSA) for making claims that the products that they sold were effective against the coronavirus, attempting to exploit fears over the ongoing pandemic.
Is honey effective against Covid-19 then?
While the claim that the honey sold by Natural Wild Honey is still under investigation, we were able to find several articles that investigated the prospects of using honey as a treatment for Covid-19. An article from Heliyon, a peer-reviewed life sciences journal found that while honey did have antibacterial properties, not enough research has been conducted to prove a link between ingesting honey and suppressing Covid-19. A separate article from the International Dose-Response Society posits that while honey has potential implications for treating and preventing coronavirus infection, no clinical trials have been done yet and thus their study was inconclusive.
Additionally, from a nutritional standpoint, we strongly recommended not adhering to the honey consumption practices recommended by Natural Wild Honey. It states that people should consume 40g of honey in one hour increments for a total of 10 times, resulting in a total of 400g of honey a day. This amounts to the equivalent of 1216 calories and a whopping 328g of sugar every day. For reference, the American Heart Organization recommends males to have 36 grams of sugar a day, while females are recommended to only have 25 grams.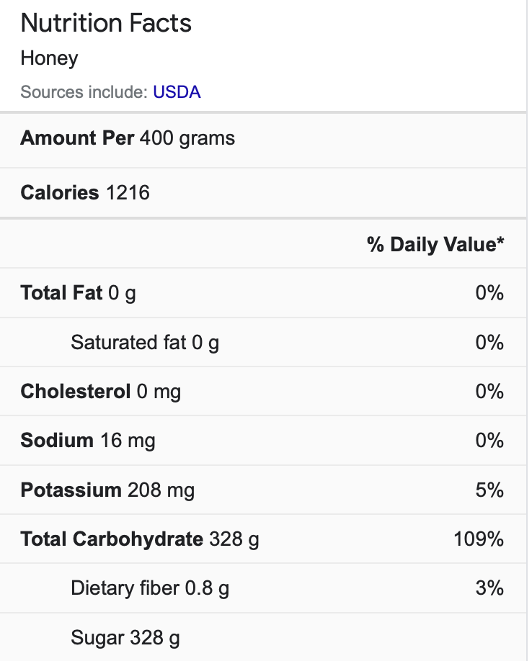 In conclusion, while clinical trials have to be conducted before fully debunking this claim, we rate the claim that honey can cure Covid-19 as likely false. Members of the public are strongly recommended to consult a doctor for management of Covid-19 and to refer to credible sources of information instead.