We came across this post on TikTok:
According to the caption, Vietnamese fans who displayed their national flag at Bishan Stadium on 6 December before the match between Vietnam and Laos even kicked off were told to keep their flag. While it is unclear what actually transpired and the video does not provide much context to the reasons given by the security, we found an article by The Monitor SG about the incident.
The post describes the incident as still being a mystery, and it is still not clear if there were actual rules in place that banned flags from being displayed in the stadium or simply a one-off incident with an overzealous security officer. Nevertheless, it was noted that footage from the match showed that the Vietnamese flag did end up being displayed following Vietnam scoring a goal.
The National Emblems (Control of Display) Act
So is it in fact illegal to display the flags of other countries in public? We conducted a search on this, finding out that there is an act present that prohibits the display of national emblems in public and in schools, with a punishment of a fine not exceeding $500 or imprisonment for a term not exceeding 6 months for disobeying it.
While we haven't found many incidents of the rules being strictly enforced, a noteworthy event that explicitly called against the displaying of country flags was the music festival ZoukOut in 2018, where the banning of country flags was posted on their Instagram page. A report from Popspoken, a music and entertainment publication based in Singapore noted that this was the first time that there has been a no-country flag rule for a music festival in Singapore.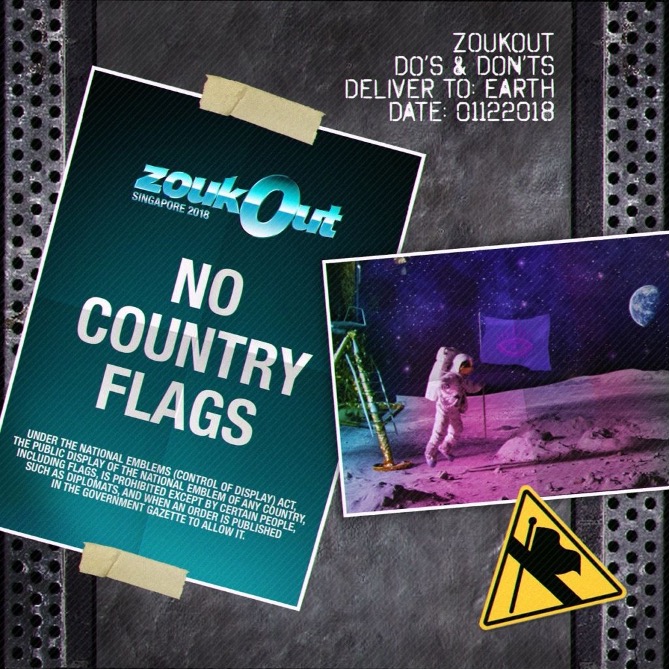 Interestingly, bans on the display of country flags apply not just to foreign countries but to the Singaporean flag as well. According to the Singapore Arms and Flag and National Anthem Act, (SAFNA) the Singaporean flag can only be displayed outside a building or in an open space without a flagpole between July 1 and Sept 30. Failing to remove the flag from display outside of this time period may result in a fine of up to $1,000 for the offender.
However, it is worth noting that nobody has ever been fined for disobeying the act and authorities do not plan to start doing so according to the Straits Times. The article adds that the Ministry of Culture, Community, and Youth (MCCY) has initiated a review of SAFNA rules and they are currently working on amending them.
Therefore, the claim that it is illegal to display the national flags of other countries in Singapore is true. Apart from ZoukOut 2018 however, there were no other instances where the statutes of the act were enforced with ZoukOut not having been held since 2018 due to the ongoing Covid-19 pandemic.