We came across the following post on Twitter: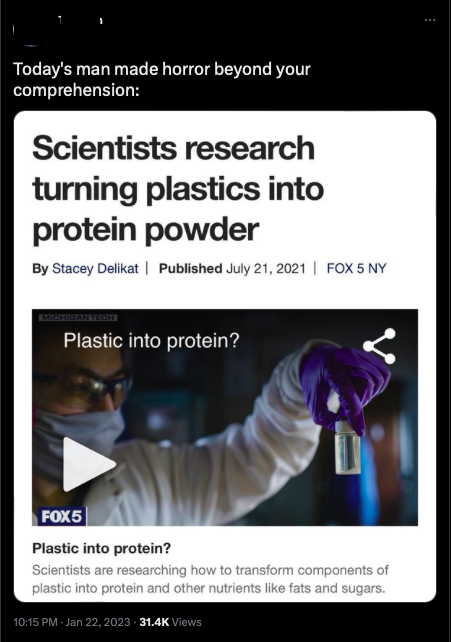 The post contained a screenshot of an article that was published on the Fox 5 News website on 21 July 2021.
The article describes a research project that intends to successfully convert elements of plastic into edible protein and other nutrients such as fats and sugars.
Research – BioPROTEIN
The research on turning plastic into protein is indeed true. It has been undertaken by Stephen Techtmann, an associate professor at Michigan Technological University, together with research collaborator Ting Lu, a professor of bioengineering at the University of Illinois Urbana-Champaign.
The research project, titled BioPROTEIN (Biological Plastic Reuse by Olefin and Ester Transforming Engineered Isolates and Natural Consortia), is not about consuming plastic but rather feeding plastic to bacteria which then produce cells that are later dried and turned into protein powder.
The researchers have since published a paper examining the feasibility of converting Polyethylene terephthalate (PET), a type of plastic, into edible protein powder.
While the Twitter post seems to paint the idea of converting plastic into an edible substance as deplorable, the researchers present the study as a possible tool to mitigate both food security concerns and plastic waste management which are increasingly becoming global concerns.
According to the researchers, over 70% of plastic waste accumulates in landfills and oceans due to current recycling methods being expensive, inept, or unfeasible. Further, to support the estimated population growth, food production must increase by approximately 70% by 2050. Hence, this new method could potentially address both concerns simultaneously.
Results of the research
The study has shown that plastic can be broken down into single-cell protein, a food source derived from microbial cells, and then turned into protein powder.
As of September 2022, the researchers have highlighted that further work is required to explore, among others, the safety and nutritional value of the single-cell protein derived from plastic as well as to upscale the project to process more plastic.
Hence, it is true that plastic is being converted into protein powder although not directly. Plastic is fed to bacteria, producing a majority-protein by-product akin to yeast by-product obtained when brewing beer. This by-product is subsequently dried and turned into protein powder. However, further research and tests are necessary to confirm that the protein powder is safe for consumption.