We came across this message on a Singapore-based Telegram group:
The message includes a screenshot of what appears to be a news article published on CTV News titled "Health officials investigating two dozen suspected cases of monkeypox across Canada found that 95% cases are shingles". Following the screenshot is a caption stating that "MP (monkeypox) was a good cover up for vaccine injury".
What is monkeypox?
For some context, monkeypox has been a recent topic of conversation after a recent outbreak of monkeypox cases outside of Africa. There have been 237 suspected and confirmed case of the virus in 19 countries reported since early May, but the World Health Organization (WHO) said on 24 May that while the number is expected to increase, the outbreak can be contained.
WHO officials added that most of the infections so far have not been severe, and scientists also "do not expect the outbreak to evolve into a pandemic like COVID-19, given the virus does not spread as easily as SARS-COV-2".
The WHO describes monkeypox as a "viral zoonosis (a virus transmitted to humans from animals) with symptoms similar to those seen in the past in smallpox patients, although it is clinically less severe". Monkeypox primarily occurs in central and west Africa, often in proximity to tropical rainforests.
The first monkeypox outbreak outside of Africa was in the US in 2003, and was linked to contact with infected pet prairie dogs. Monkeypox had also been reported in travellers from Nigeria to Israel in September 2018, to the UK in September 2018, December 2019, May 2021 and May 2022, to Singapore in May 2019, and to the US in July and November 2021.
Did CTV News publish the article?
When we did a Google search of the title, we could not find a link to such an article on CTV News.
Fact-checkers at Reuters and Misbar have also confirmed that they were unable to find the article in question.
Interestingly, the factchecks pointed out that the same screenshot was being shared heavily on Twitter, with one tweet attracting over 3,200 likes and over 2,000 shares: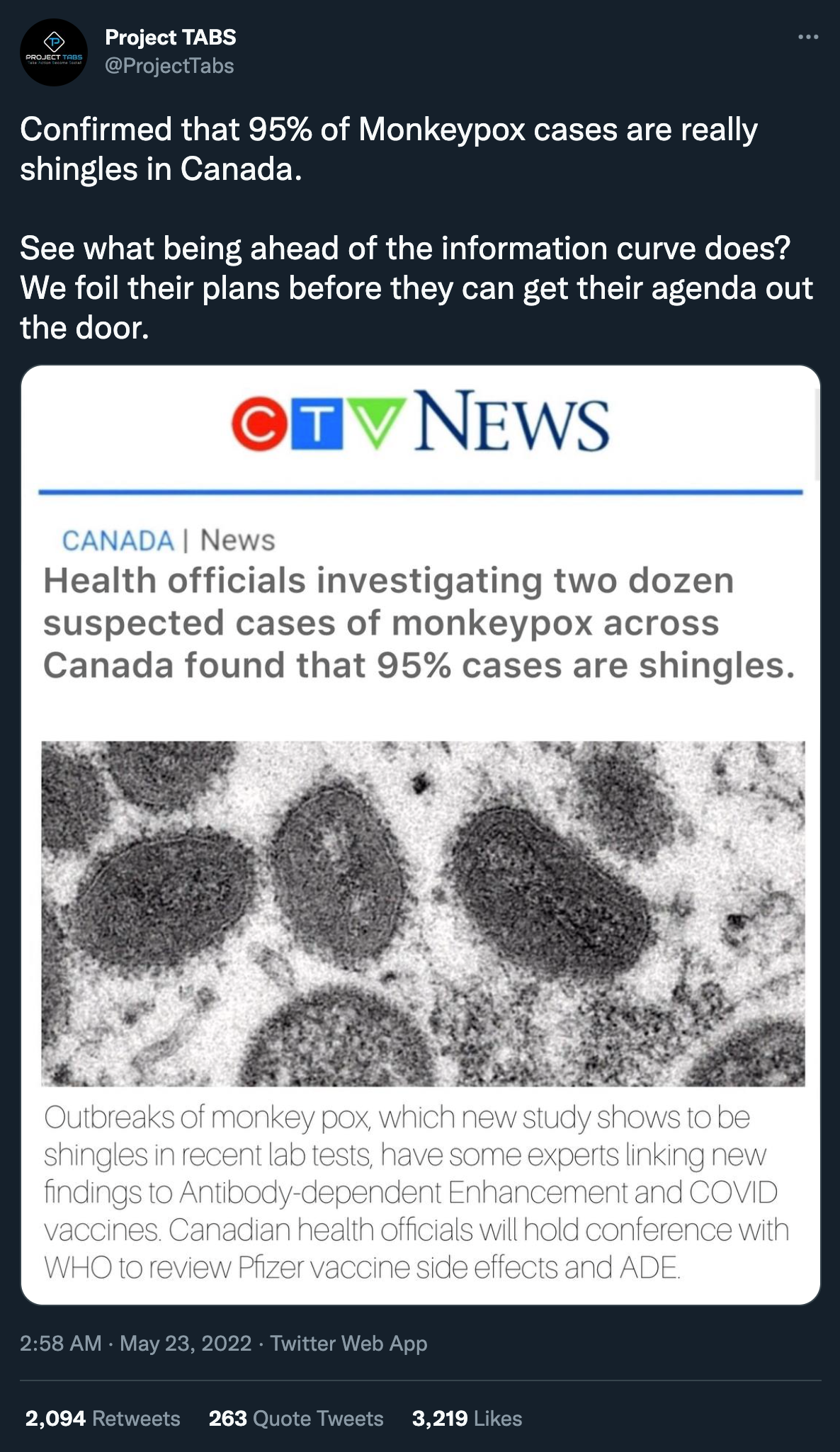 Possibility of the article not even existing aside, Prof. Seth Blumberg, Assistant Professor of Medicine at the University of California, San Francisco also told Reuters that shingles and monkeypox are distinct diseases.
"Monkeypox is a primary infection caused by contact with a person or animal with active disease. Shingles is reactivation of the virus that causes chickenpox. Both diseases cause a rash with small blisters. However, shingles tends to affect one narrow strip of the skin on just one side of the body, whereas monkeypox can affect the entire body," said Prof Blumberg.
How does this link to 'vaccine injuries'?
As for the apparent link to 'vaccine injury', it seems that the author is suggesting that vaccines have resulted in individuals getting shingles, and that the recent monkeypox outbreak is a red herring.
Interestingly enough, an article on CTV News published in July 2021 actually debunked claims on social media that shingles is a side effect of the COVID-19 vaccine.
Dr. Gerald Evans, chair of Queen's University's infectious diseases division in Kingston, Ontario told CTV News on Tuesday that while he is not surprised some people reported a shingles flare-up after being vaccinated, he explained that people get shingles when the virus that causes chickenpox has a resurgence in the body, typically when a person's immune system is weakened because of another health problem. He said the varicella zoster virus doesn't leave the body, even after a person has recovered from chickenpox, causing shingles to occur "sporadically in people all the time", and that it is "almost certainly coincidence because shingles is becoming more and more common in the general population".
A cross-sectional study published in October 2020 by the University of California also found "no statistical evidence" to support claims of a link between shingles and COVID-19.
Therefore, it is both false that monkeypox and shingles are the same thing, and that monkeypox is a cover up for vaccine-induced shingles.