We were alerted to this article, published 18 November 2021:
Titled "Kumar's latest investment has the government and big banks terrified", the article reports on how Singaporean comedian Kumar appeared on CNA programme Asia First to share about "a new 'wealth loophole' which […] can transform anyone into a millionaire within 3-4 months".
The 'wealth loophole' is a platform that is purported to allow an "average person [with] absolutely no investing or technology experience" to "cash in on the Bitcoin boom". To get in on it, a user needs to make a deposit of "usually of S$400 or more" and "the automated trading algorithm would go to work", buying and selling Bitcoin at "the perfect time" to maximise returns.
According to the article, the revelation of this method was so staggering that the Monetary Authority of Singapore (MAS) allegedly called CNA "to stop [the] interview from being aired". Alas, the author writes, "it was already too late".
The article then goes on to elaborate more about what happened during the interview, even including quotes by CNA presenters Julie Yoo and Avril Hong, both of whom purportedly raved about the platform after trying it out on air themselves.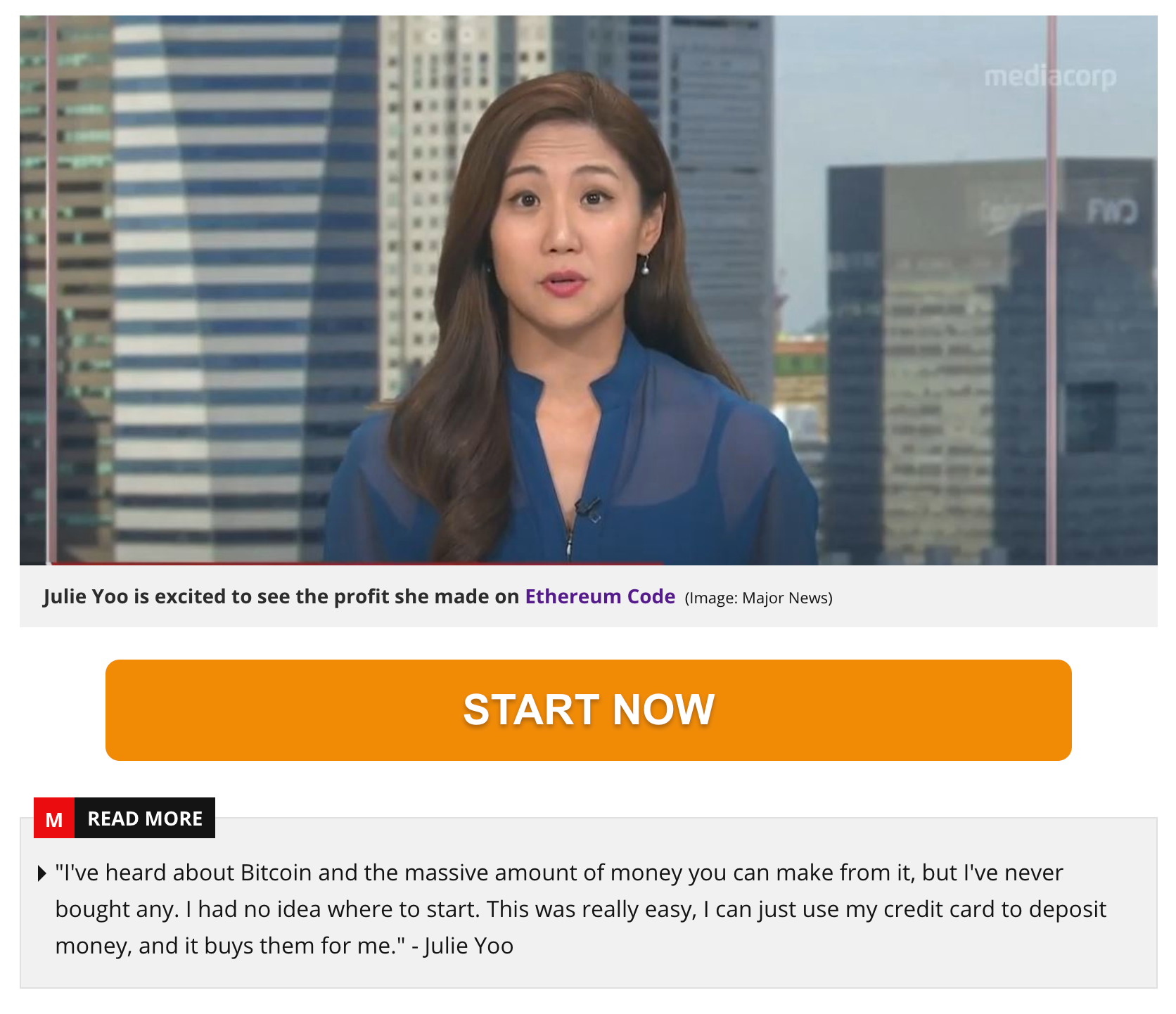 A valiant attempt at feigning legitimacy
Outrageous claims aside, there are already several clues which point to the questionable nature of the article.
First of all, while the article was hosted on a website called "mosdalirs.com", it had attempted to feign legitimacy by copying the header and layout of CNA, an established news platform.
However, a side by side comparison of what's seen on the website and CNA's current website reveals that the former is an outdated replica at best:
Next, we see another attempt to make the website look more credible via the section which shows the total shares and comments on the article.
7,891 shares and 1,344 comments is a rather incredible feat, but a simple right-click and 'Open Image In New Tab' reveals the truth: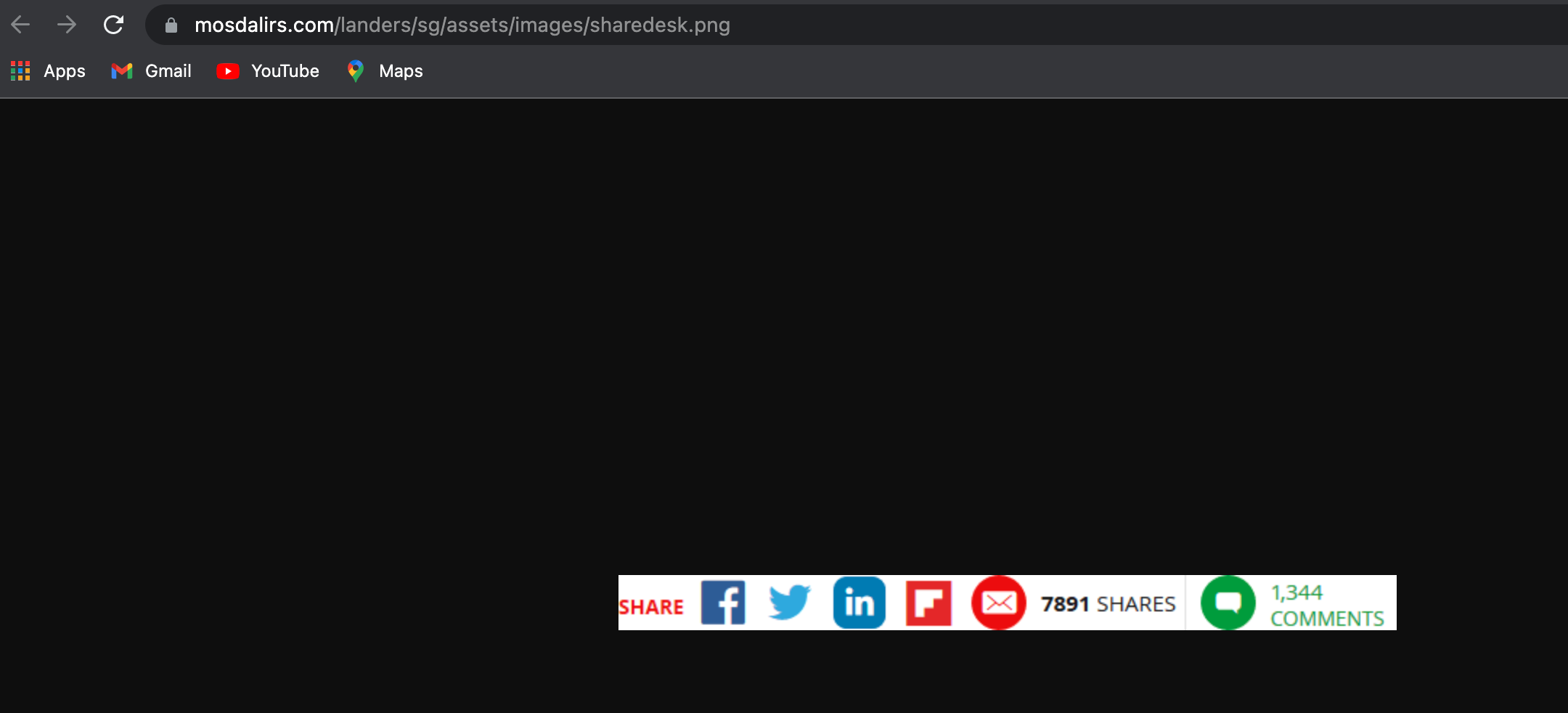 As seen, the entire row of social media links and number of shares and comments are simply part of a PNG image which was inserted into the website to trick one into thinking that the article is more engaged with than it actually is.
Finally, given that the article reported that the Kumar interview happened "two days ago", we worked backwards from the publication date (18 November 2021) and assumed that it was referring to the Asia First episode which aired on 16 November.
A check on a recording of that particular episode uploaded on CNA revealed that no such interview with Kumar happened.
The webpage is peppered with multiple similar attempts at feigning legitimacy, but we feel that these examples are more than sufficient to prove our point.
Not the first time that a well-known figure is used for such a scam
While we don't deny that this was indeed a valiant attempt in deception, a fatal flaw was made in the text:

As seen, while the article reports solely about the interview with Kumar, there is a random mention of the "Singapore Prime Minister".
Hopping on this Freudian slip, we did a Google search of the terms 'lee hsien loong investment scam'. Lo and behold, we were led to a 2019 report on how a website had used "fabricated comments attributed to Prime Minister Lee Hsien Loong to solicit Bitcoin investments".
Similar to this case, the website was said to "impersonate a news page [and] referred to statements purportedly made by PM Lee during his National Day message". In a screenshot of the website by the MAS, we see the mention of a "new wealth loophole" once again, along with how this is leaving "all big banks terrified":
In a clarification issued by MAS then, they said that "The information on the website is highly deceptive and misleading. The statements attributed to PM Lee are completely false."
They added: "The site tries to get readers to provide credit card or bank account information. It also asks for payments into a purported Bitcoin trading platform, which would automatically initiate trades on the client's behalf."
It thus appears that two years on, the same scam is still alive and kicking – this time, featuring another public figure.
Therefore, it is both false that such an interview with Kumar happened, and that he was sharing about a legitimate "wealth loophole".