We came across this photo being forwarded on WhatsApp: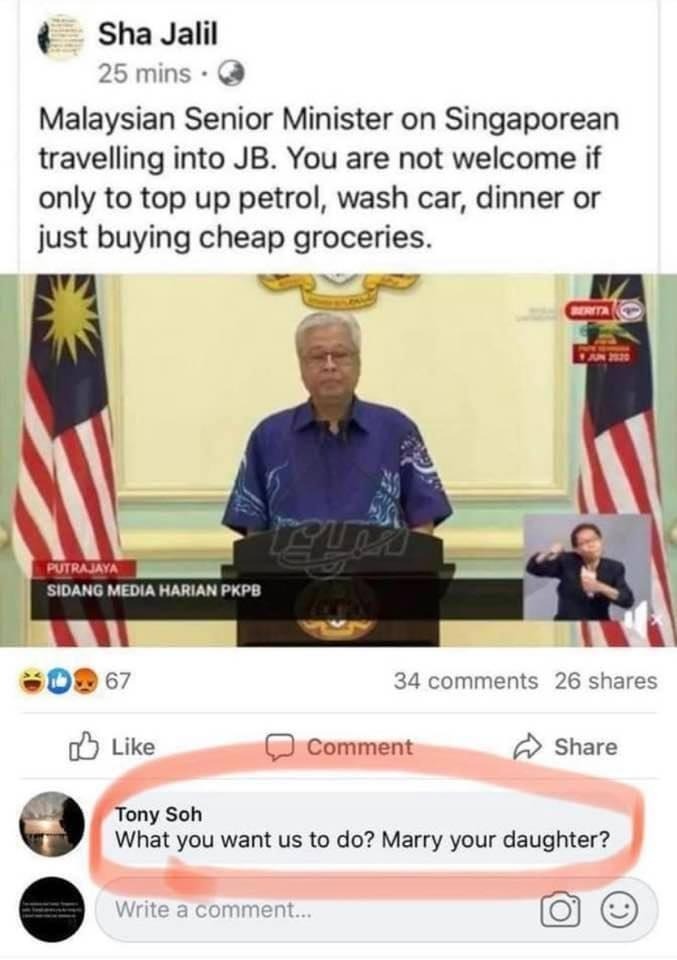 The photo is a screenshot of a Facebook post which includes a screenshot of what appears to be Malaysian Senior Minister Ismail Sabri Yaakob at a press conference. The caption of the post reads: "Malaysian Senior Minister on Singaporean travelling into JB. You are not welcome if only to top up petrol, wash car, dinner or just buying cheap groceries." We were unable to locate the original post on Facebook.
While the comment circled in red definitely garnered some giggles, the question of whether or not a Malaysian Senior Minister actually said the statement as quoted in the post remains unanswered.
When we did a search on Facebook with the keywords "malaysian senior minister on singaporeans", we see several search results with the similar screenshot:
One of the most recent posts was shared just over 10 hours ago, with the poster expressing his anger towards what the Senior Minister allegedly said:
Three other Facebook posts (here, here, and here) which shared the screenshot in the last 24 hours also expressed their disapproval (though less heated) towards the comment that was allegedly made.
Interestingly enough, search results also led us to a Facebook post dated 26 October 2020 which also shared the same screenshot, indicating that this is something that has been making its rounds for quite a while now.
When we did a Google reverse image search to find out which event the screenshot could have been taken from, we found that it was taken from a press conference Mr Ismail Sabri did on 8 June 2020:
Details like the shirt that Mr Ismail Sabri was wearing and the '9 Jun 2020' date in the red box at the top right corner match the ones in the screenshot.
We managed to find the full press conference delivered by Mr Ismail Sabri on 8 June 2020 on NST Online's Facebook page:
There was nothing said in the conference about Singaporeans not being welcome. In fact, the only part which mentioned Singapore was how Malaysians working in Singapore may soon be allowed to resume commuting to and from Johor Baru.
"Such news is malicious"
When we did a Google search with the keywords "Ismail Sabri Yaakob singaporean", we realised that Mr Ismail Sabri had addressed this social media post at a news conference on 13 June last year.
Said the Minister: "I purportedly said Singaporeans are not welcomed in Malaysia (in the daily press conference). The footage however was dubbed. Those who always follow this PC (press conference) would be able to identify how I sound, but Singaporeans may not be so familiar with my voice."
Satu berita yang sangat jahat dan lebih-lebih lagi ucapan saya telah dialih suara.

Saya tahu rakyat Malaysia kenal suara saya.

Tindakan jahat ini boleh mengeruhkan hubungan antara kita dengan Singapura yang merupakan negara jiran, sahabat kepada Malaysia. pic.twitter.com/O3VWEfo9uV

— Ismail Sabri (@IsmailSabri60) June 13, 2020
He clarified: "The truth is, our borders are still closed to everyone, including Singaporeans, so such news is malicious […] This act can sour the relationship between Malaysia and our neighbour Singapore." He had even "lodged reports with the (Malaysian) police and the Malaysian Communications and Multimedia Commission (MCMC) to investigate (the issue) further".
Therefore, the claim that a Malaysian Senior Minister commented that Singaporeans are not welcome if they only go over to top up petrol, wash car, dinner or buy cheap groceries is false.