When a public figure passes, their character and past often re-emerges under the gaze of public scrutiny. At times, the intensity of this gaze can lead to warped perceptions susceptible to disinformation, as observed when Queen Elizabeth died in September.
The passing of Pope Benedict XVI—born Joseph Ratzinger—appears to have invited the same controversy, and we found multiple posts on social media platforms including Twitter and Facebook suggesting that the former leader of the Catholic Church was a former member of the Hitler Youth.
Many of the posts are accompanied by an image of a boy, presumably Benedict as a youth, in a Nazi uniform.
While investigating these allegations on Twitter, we found several posts that made these allegations using similar language, suggesting the posts may have been coordinated or informed by a single source. The accounts making these allegations were a mix of normal users, newly subscribed Twitter Blue users and legacy verified accounts.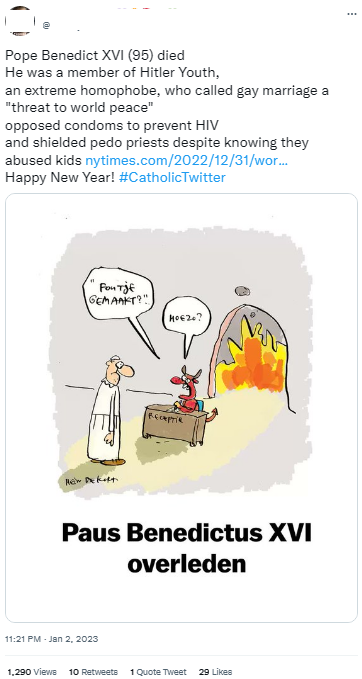 While this phenomenon is not new on Twitter, this case indicates how the changing definition of the blue Twitter checkmark has added to the complications in sourcing credible information on the platform.
A Dark Past Resurfaces?
We investigated the origins of this photo and found it to be an authentic picture of Benedict. Both the BBC and ABC have previously used the image when discussing Benedict XVI's youth.
According to Getty, from where the picture was originally sourced, the picture in fact shows Benedict in 1943 as a Luftwaffe (German Air Force) assistant rather than merely a member of the Hitler Youth. According to Reuters, teenagers in the Hitler Youth were conscripted as anti-aircraft auxiliaries, or 'Flakhelfer', from 1943.
Benedict was drafted into the Nazi German Army in 1945 when he turned 18. He was stationed near his hometown but did not see combat, and he later deserted the army before being held as a prisoner of war by Allied troops for several weeks.
Benedict's history has previously invited criticism by sections of the media, such as the British tabloid The Sun, which ran a prominent headline emphasising Benedict's past in the Hitler Youth when he became pope.

No Indication of Nazi Sympathies
While the claims about Benedict's past do appear to be accurate, a closer inspection reveals details that suggest that criticism of Benedict based on this information may not be entirely justified.
The Hitler Youth began as the Youth League of the Nazi Party. It became the official youth organisation of the Nazi Party incorporated in the SA (Nazi paramilitary) in 1926.
Following the Nazi Party's rise to power in 1933, many of Germany's numerous existing youth groups were either forcibly dissolved or incorporated into the Hitler Youth. In 1939, a decree was issued mandating all youth aged 10 to 18 to join the Hitler Youth.
While there remained some who did not join the Hitler Youth, more than 82% of eligible German children had joined the Hitler Youth or its female equivalent by 1939. Youth who refused to participate in Hitler Youth activities and parents who failed to enrol their children or prevented them from attending meetings faced financial penalties and imprisonment.
In 1996, Benedict XVI gave interviews for his biography in which he admitted that he had been registered in the Hitler Youth by his seminary (theological school in preparation for priesthood) in 1941, when he was 14. After he became pope, his spokesman added that 'he was enrolled involuntarily… but he had no active participation'.
Moreover, neither Benedict nor his family were Nazi party members, and were instead anti-Nazi; his policeman father had in fact been demoted for his anti-Nazi stance. The Simon Wiesenthal Centre, a Los Angeles-based Jewish human rights organisation that has hunted Nazi war criminals, investigated Benedict's involvement in Third Reich and found no evidence of antisemitism.
While Benedict XVI's membership in the Hitler Youth appears to be a product of circumstance rather than proof of sympathy for Nazi ideology, Benedict's legacy remains divisive on some issues despite commanding deep respect from significant sections of both Catholic and other communities. Benedict has been criticised for ultraconservative positions on homosexuality and contraception, and there are suggestions that he failed to effectively address sexual abuse by priests while he was cardinal and pope.
As such, the claim that Benedict XVI was a member of the Hitler Youth is true but lacking important context, and there is no evidence that he was an active supporter of the Nazi Party.