We came across this screenshot being circulated on Telegram:
The image is a screenshot of a tweet which states that Queen Elizabeth II is being given ivermectin when "she's sick with COVID-19" though the public is told that ivermectin is a "horse dewarmer".
For context, Queen Elizabeth II tested positive for COVID-19 on 20 February 2022. The author of the tweet was also probably trying to say that ivermectin is a "horse dewormer", given that some forms of animal ivermectin are used to prevent heartworm disease and to treat certain internal and external parasites. Ivermectin can also be used to treat infections caused by some parasitic worms and head lice and skin conditions like rosacea in humans.
The tweet is a reply to yet another tweet, which shares a video that appears to be taken from a news broadcast. The tweet asks the public to "press pause at 0:19".
When we took a look at the video, we see that the snippet quotes Melbourne-based doctor Dr Mukesh Haikerwal that "a COVID patient the Queen's age should be isolating, and might benefit from new medicines currently approved for high risk patients at Australian hospitals".
The video then cuts to a shot of vials labelled 'Sotrovimab', and then another box of medication as seen in the screenshot below: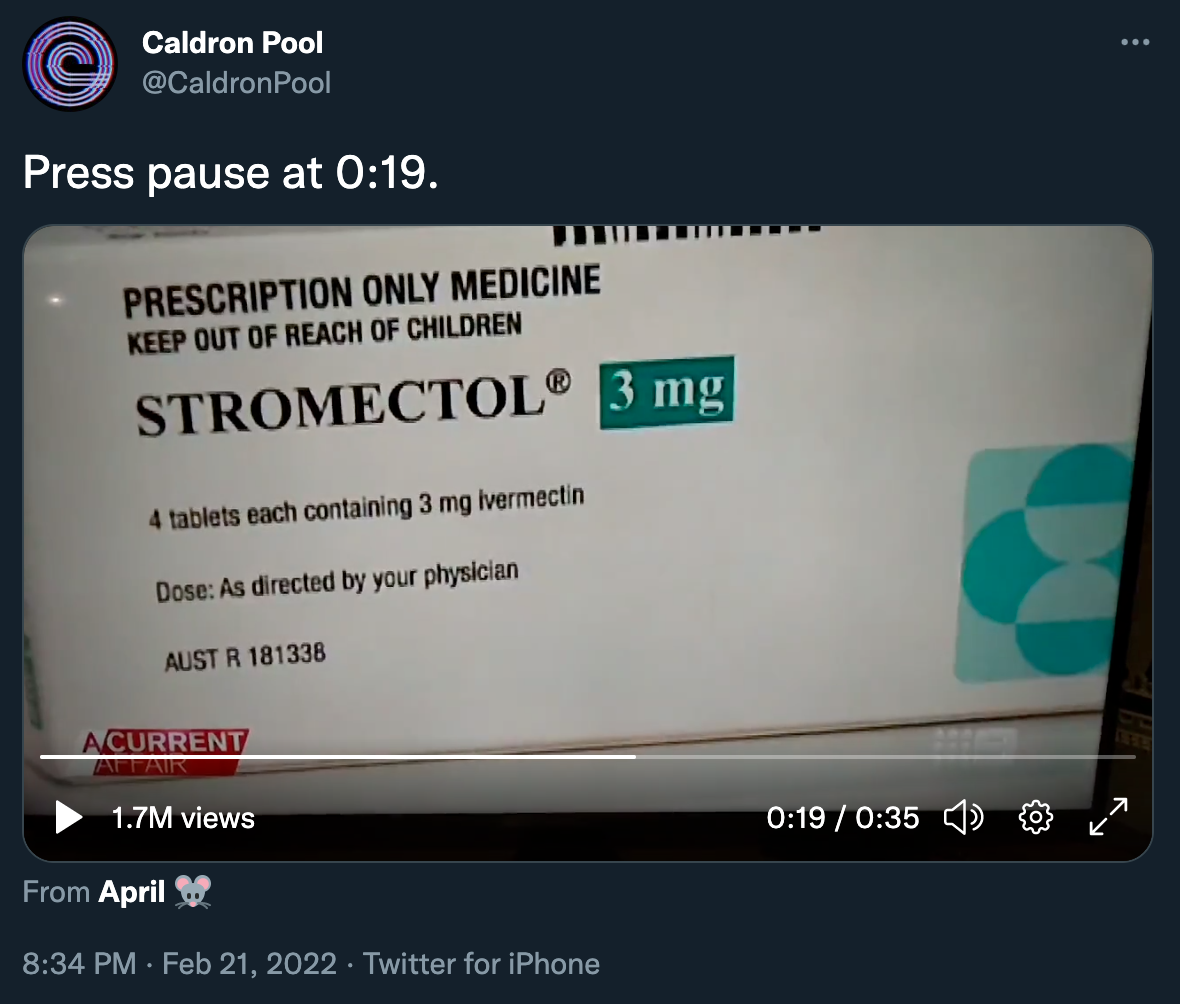 As seen, it is stated on the box that the medicine, Stromectol, "[contains] 3mg ivermectin". Stromectol is the trade name of ivermectin.
It is important to note that while Sotrovimab (the one in the vials) has been approved by health authorities like Health Sciences Authority (HSA) in Singapore, the National Health Service (NHS) in the UK and the U.S. Food and Drug Administration (FDA) for the treatment of COVID-19, ivermectin is neither approved nor authorised for such use.
In fact, authorities across the world have even warned the public against the use of it, as overdosing on it might result in death. According to the HSA, ivermectin can also interact with other medications used such as blood-thinners, and there have been reports of patients requiring hospitalisation after self-medicating with ivermectin.
Nine Network apologises for "human error"
When we did a Google search of the terms 'queen ivermectin', we were led to two articles reporting about this particular clip going viral on Twitter, especially among the anti-vaccination community.
In the report on The Guardian, we read that the news channel, Australian-based Nine Network, has "apologised after mistakenly suggesting the Queen was using the drug ivermectin after contracting COVID-19". Dr Mukesh Haikerwal who was featured in the clip also told Guardian Australia that he "did not mention any specific treatments in his interview […] and expressly ruled out recommending ivermectin for Covid patients".
In a clarification by Nine Network themselves, they stated that the shot was included "as a result of human error" and that they did not intend to suggest that Dr Mukesh Haikerwal endorses Stromectol, and that they "do not suggest the Queen is using Ivermectin". They also added that they have done "numerous stories highlighting the concerns around taking Ivermectin as a treatment for COVID-19".
As for what treatments the Queen might be currently undergoing, we read in an article by The Daily Mail that while the Queen has been triple-vaccinated, she "could be prescribed one or more of a number of anti-viral medications designed to protect the most vulnerable in an effort to aid her recovery". Drugs suggested by health experts include approved treatments like Ronapreve, Molnupiravir, Paxlovid, Sotrovimab, Remdesivir, and Dexamethasone.
Therefore, due to the error made by Nine Network and also how ivermectin is an unapproved drug in the treatment of COVID-19, we rate the claim that the Queen is using ivermectin as false.