We came across this Facebook post by the Singaporean opposition politician Lim Tean: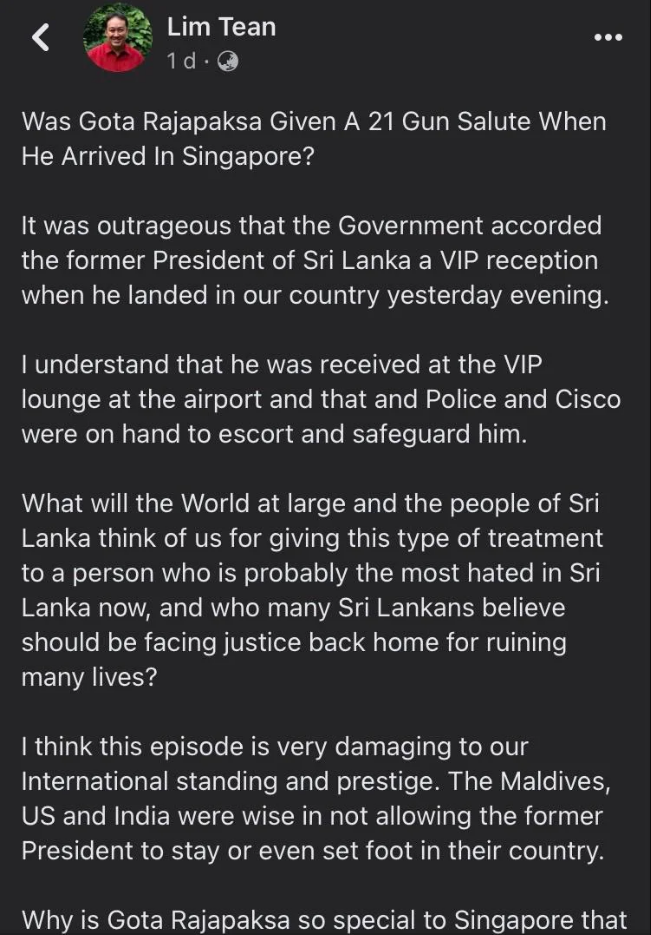 Lim Tean makes the following claims and suggestions in his post:
He claims that Maldives, the US and India either denied entry to Rajapaksa or disallowed him from remaining within the country
He claims third-party knowledge that Rajapaksa was received at the VIP lounge with a 'Police and Cisco' escort
He suggests, by asking the question, that the former Sri Lankan president Gotabaya Rajapaksa was given a 21-gun salute by Singapore when he arrived in Singapore on 14 July
Gotabaya Rajapaksa was, until recently, the president of Sri Lanka until he resigned on Thursday, 14 July shortly after arriving in Singapore after months of widespread protests as the conditions of the Sri Lankan economy worsened. As Rajapaksa was immune from prosecution while president, it is likely that he had sought to leave the country before submitting his resignation at a time when angry crowds of protesters had occupied his personal residence.
Claim 1: Maldives, the US and India either denied entry to Rajapaksa or disallowed him from remaining within the country
While Rajapaksa eventually landed in Singapore, it is reported not to have been his first choice of destination. The Straits Times refers to reports that the US had refused to grant Rajapaksa a travel visa.
India also appears to have rejected Rajapaksa's attempt to enter its territory, according to the The New Indian Express. The publication quotes sources in Colombo who stated that Rajapaksa had made efforts to fly to India by both air force aircraft and commercial flights, but permission for doing so had been withheld by India. The Indian High Commission in Colombo has also strongly refuted reports that it contributed to Rajapaksa's eventual departure from Sri Lanka.
While Rajapaksa transited in Maldives, there is no indication whether Rajapaksa attempted to stay there or that he was disallowed from doing so. There are reports that Maldivian air traffic control had initially denied the request to land from the plane carrying Rajapaksa until the Speaker of the Maldivian Parliament Mohamed Nasheed intervened. The Maldives government has only indicated, in a statement, that it had granted diplomatic clearance for Rajapaksa to enter Maldives on a transit visit.
The claims in the post of the three countries denying Rajapaksa entry or allowance to stay is therefore mostly true.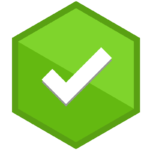 It must be noted that Lim Tean raises this point to contrast the actions of the three countries in comparison to Singapore, but the CNN-affiliated News 18 reports that Singapore has given Rajapaksa notice to leave after fifteen days. Furthermore, an official statement by the Ministry of Foreign Affairs (MFA) informed that Rajapaksa had arrived on a personal visit, and had neither applied for nor been granted asylum.
While there are doubtless some who will be displeased by Singapore's decision to receive Rajapaksa at all, it is nevertheless important to distinguish it from a decision to grant him refuge.
Claim 2: Rajapaksa was received at the VIP lounge with a 'Police and Cisco' escort
Rajapaksa was reported to have been flying aboard a Saudi Arabian Airlines (Saudia) flight from Maldives that landed at 7.17pm. TODAY reports that they witnessed a Saudia plane moving into the airport's VIP Complex at 7.19pm.
Shortly after, a convoy of vehicles accompanied by Certis Cisco riders drove out of the premises, and later, two cars were seen leaving the JetQuay terminal adajacent to the VIP Complex under police escort. TODAY was unable to spot Rajapaksa in any of the vehicles.
Photo: Ooi Boon Keong/TODAY
An eyewitness on the flight also told Reuters that Rajapaksa was met by a group of security guards and was seen leaving the VIP area in a vehicle convoy.
While Rajapaksa was not spotted in the convoy, given the eyewitness report, it is likely true that Rajapaksa was received at the VIP lounge with a Police and Cisco escort.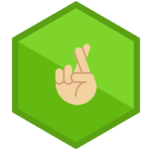 Nevertheless, VIP treatment is expected for foreign dignitaries, and it must be noted that Rajapaksa was still the president of Sri Lanka when arriving in Singapore.
Claim 3: Rajapaksa was given a 21-gun salute by Singapore when arriving
Lim Tean headlines his post by asking if Rajapaksa was given a 21-gun salute by Singapore when arriving. There is no evidence that this was the case.
The 21-gun salute is descended from a naval tradition that eventually became a British navy practice to honour members of the royal family. It was later adopted by other countries as the highest form of salutation, usually reserved for foreign heads of state during their visits.
In Singapore, the 21-gun salute is currently reserved for the president's inspection of the guard during the National Day Parade, though the tradition was also carried out during the state funeral of former prime minister Lee Kuan Yew. Singapore has also in the past carried out the salute during the visits of foreign heads of state, such as Queen Elizabeth, the president of India V. V. Giri, and the Indonesian president Suharto.
It is highly unlikely that the 21-gun salute was observed for Rajapaksa. 21-gun salutes are usually reserved for official state visits, and MFA's statement indicates that Rajapaksa had entered on a private visit. Singapore was also not Rajapaksa's original choice of destination, making such a ceremony a logistical challenge. Furthermore, a 21-gun salute, which can create sounds of more than 130dB—equivalent to a jet take-off or a jackhammer, would likely also have been widely audible, but no such accounts were recorded. Finally, there is precedent for Rajapaksa travelling to Singapore in a private capacity without any suggestion of having received a 21-gun salute, having done so in December 2021.
Given how unlikely it was for Rajapaksa to have received the 21-gun salute, Lim Tean may have been alluding to the gesture sarcastically for dramatic effect, highlighting his disagreement with the local authorities for allowing the disgraced Sri Lankan leader into the country at a time when he had been turned away elsewhere.
Nonetheless, It is highly likely to be false that Rajapaksa received a 21-gun salute when arriving in Singapore.