[Editorial update: 20 May, 11:30am] We've updated the section on repatriation flights to India for clarity. The rating remains unchanged.
–
On 18 May, an article on Indian newspaper Hindustan Times made its rounds on social media platforms like Facebook and was being forwarded furiously on messaging platforms like WhatsApp.
The article reports that Delhi chief minister Arvind Kejriwal had warned of a "new variant of coronavirus disease (Covid-19) found in Singapore" and that this variant "can result in India's third wave". He also added that the strain is "extremely dangerous for children" and urged the Indian Prime Minister Narendra Modi-led government to "immediately halt air services with Singapore" and to prioritise vaccinations for children.
Singapore publication Mothership notes that while his comments were also reported on other English-language news media in India such as The Hindu, NDTV, and The Economic Times, Hindustan Times was the only outlet that used the term "Singapore virus".
A photo taken from what looks to be a news broadcast was also being forwarded on WhatsApp:
We also came across a video which appears to be a screen recording of a post on India Today's Facebook page. In the video, it is mentioned that there is a "new Singapore strain" that is impacting children, and that the Indian health ministry is closely monitoring it.
Needless to say, Singaporeans have taken umbrage at what was being reported – not only due to its factual inaccuracies, but also how the strain was dubbed the 'Singapore virus'.
There is quite a bit to unpack, but let's first go into checking if the claims made contain any ounce of truth in them.
Claim #1: There is a new variant of COVID-19 found in Singapore
According to Mr Kejriwal, there appears to be an entirely new variant of COVID-19, and that it originated in Singapore.
The Ministry of Health (MOH) responded to this claim on 18 May, saying that there is "no truth whatsoever" in this claim and that "there is no 'Singapore variant'".
In fact, the strain that has been prevalent in many recently reported COVID-19 cases is the B.1.617.2 variant, which originated in India. "Phylogenetic testing has shown this B16172 variant to be associated with several clusters in Singapore," said MOH.
Some Indian netizens have also taken to Twitter to call out the inaccuracy of Mr Kejriwal's claim: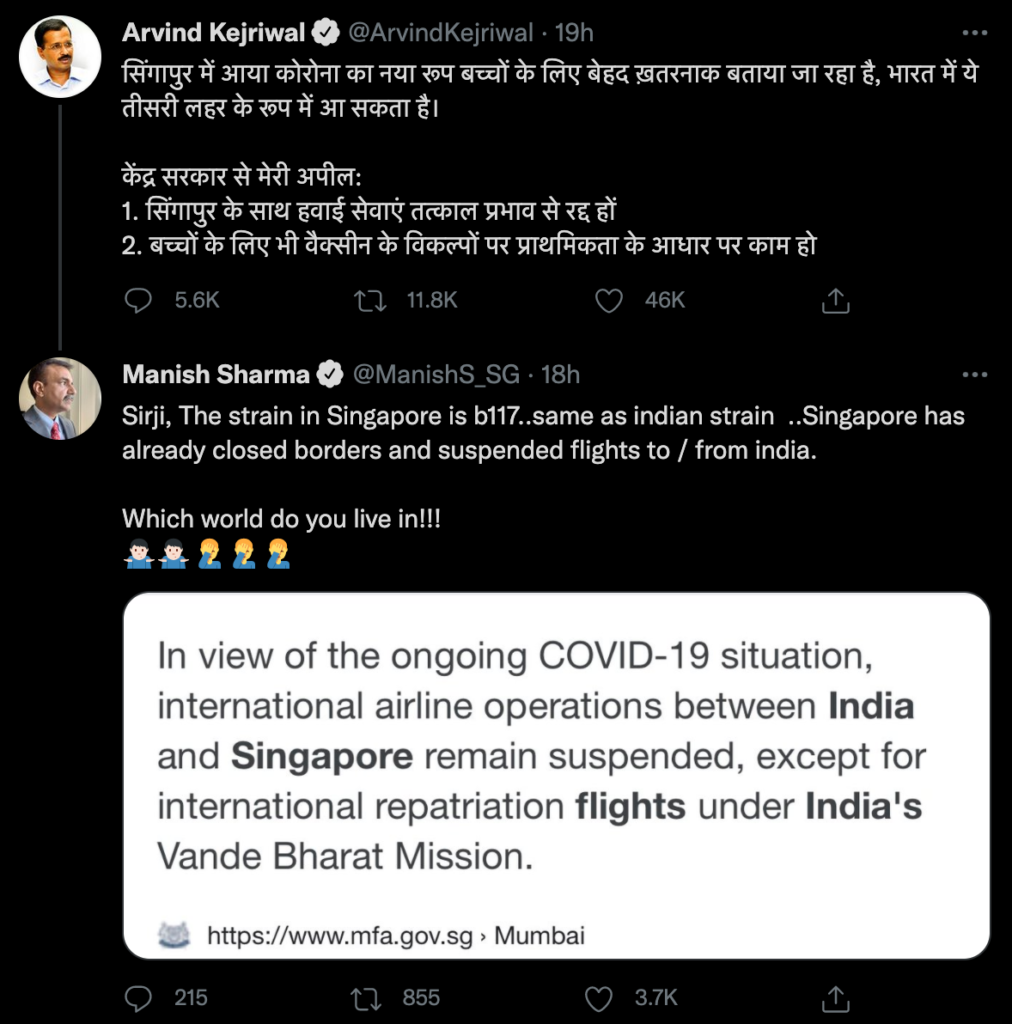 Therefore, it is false that there is a new variant of COVID-19 found in Singapore.

Claim #2: This variant is "extremely dangerous for children"
Next, Mr Kejriwal mentions that the strain is "extremely dangerous" for children, and urged the central government to prioritise vaccinations for them.
Perhaps Mr Kejriwal had added a very generous sprinkling of salt to comments made by Education Minister Chan Chun Sing on 16 May at a press conference by the multi-ministry taskforce (MTF). Then, he addressed the recent rise in cases of children being tested positive for COVID-19. Chan said that the B.1.617 strain appears to be more virulent and seems to attack younger children, but assured that none of the children who were infected are seriously ill.
Regardless, the new strain is still "an area of concern", and it was announced on the same day that all primary and secondary schools, as well as junior colleges and Millennia Institute, will be shifting to full home-based learning from 19 May until the end of term on 28 May.
Therefore, the claim that the strain is "extremely dangerous" for children is false.

Claim #3: Flight services to India from Singapore have yet to be halted
Finally, Mr Kejriwal urged the Indian Prime Minister Narendra Modi-led government to "immediately halt air services with Singapore", perhaps as a means of keeping the variant out of India.
If Mr Kejriwal had done a simple Google search before crafting his tweet, he would have realised that this is already in place.
In response to his comment, Indian Aviation Minister Hardeep Singh Puri came forward in a Twitter post to clarify that international flights to India have been halted since March last year, and that Singapore has no air travel bubble in India. He was quoted as saying: "We just bring back Indian people stranded there with some Vande Bharat flights. They are our own people. We still have an eye on the situation. All precautions are being taken," referring to repatriation flights.
On the High Commission of India in Singapore's website, we see a press release issued 5 May that Indian nationals who wish to return to India should immediately register themselves, and the flight schedule from Singapore would be announced. It added that all passengers will be screened before departure, and only asymptomatic passengers will be allowed to board the flight. Upon arrival, all passengers will be screened and would be quarantined for 14 days. Following that, a COVID test would be done. When we took a look at the flight schedule uploaded on HCI's website, we see scheduled repatriation flights from Singapore happening from 11 to 31 May.
Since 24 April, all long-term pass holders and short-term visitors with recent travel history to India within the last 14 days would also not be allowed entry into Singapore. This includes visitors who transit in India, and all who had obtained prior approval for entry into Singapore.
Therefore, the claim that flights to India from Singapore (other than repatriation flights) have yet to be halted is false.

Minister of External Affairs, India: "Delhi CM does not speak for India."
The Ministry of Foreign Affairs (MFA) in Singapore said in a press statement on 19 May that it "regrets the unfounded assertions made on Facebook and Twitter" and that they are "disappointed that a prominent political figure had failed to ascertain the facts before making such claims". MFA added that they met High Commission of India P Kumaran in the morning to "express these concerns".
Foreign Minister Vivian Balakrishan also tweeted in response to Mr Kejriwal's comments, stating that "politicians should stick to facts":
Politicians should stick to facts!
There is no "Singapore variant". https://t.co/SNJaF7wkwC https://t.co/pNgw4bkV4H

— Vivian Balakrishnan (@VivianBala) May 19, 2021
India's External Affairs Minister S Jaishankar took to Twitter and called the comments "irresponsible" and that Mr Kejriwal "does not speak for India".

Arindam Bagchi the official spokesperson of the Ministry of External Affairs in India tweeted saying that the Singapore Government conveyed "strong objection" to Mr Kejriwal's comments on a 'Singapore variant'. The Indian High Commissioner then clarified that Mr Kejriwal has "no competence to pronounce on Covid variants or civil aviation policy".
Singapore Government called in our High Commissioner today to convey strong objection to Delhi CM's tweet on "Singapore variant". High Commissioner clarified that Delhi CM had no competence to pronounce on Covid variants or civil aviation policy.

— Arindam Bagchi (@MEAIndia) May 19, 2021
Not just a matter of semantics
It is interesting to note that at the time of writing, Hindustan Times has tweaked its headline and removed the words "Singapore virus":
HOWEVER, the article still reflects information that has already been proven to be inaccurate – that there is a new variant that originated from Singapore, that it is extremely dangerous for children, and that flights between Singapore and India are still ongoing.
Inaccuracies aside, what's even more problematic, and what most have taken issue over is how downright xenophobic the term 'Singapore virus' is.
This is akin to how COVID-19 had been referred to as the 'Wuhan virus', 'China virus', and 'Chinese virus' by regular people and politicians alike last year. For example, former US President Donald Trump had repeatedly referred to COVID-19 as the 'Chinese virus':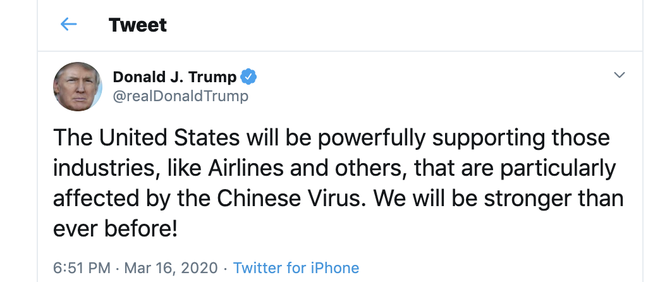 Even when asked by a reporter on why he's adamant on using the term, Mr Trump defended his stance, saying that "it's not racist at all […] because it comes from China".
"I want to be accurate," said Mr Trump, ignoring the fact that there had been increased reports of anti-Asian discrimination, anti-Asian content on Twitter, and anti-Asian violence around that time. According to a report by non-profit coalition Stop AAPI Hate, there were 3,795 anti-Asian hate incidents reported across the country between March 2020 and February 2021.
In a commentary titled "Time to stop the use of 'Wuhan virus', 'China virus' or 'Chinese virus' across the scientific community", authors note that while naming a virus after a geographic location or group of people is "not unheard-of", for example, the Middle East respiratory syndrome (MERS), "having precedence is not a de facto justification for using these alternatives, as mentioned above, to SARS-CoV-2". The authors argue that such terms don't just hinder the public's understanding and perception of COVID-19, but are "biased" and "discriminatory" as it equates a city, a nation, and the Chinese people to a virus.
Dr. Marietta Vazquez, a professor of Pediatrics in the Division of Infectious Diseases & General Pediatrics at the Yale School of Medicine, also spoke out about seeing '#ChinaVirus' and '#WuhanVirus' trending in the US. She noted that while there is "understandable unease" about the increasing spread of COVID-19, "it's important to remember that words matter and the language we use has power" and that "stigma associated with referring to an illness in a way that deliberately creates unconscious (or conscious) bias".
Bringing it back to the current context, Singaporeans have understandably reacted so strongly to the term 'Singapore virus' and the claims being made because, like what was quoted, it equates Singapore and Singaporeans to a strain of COVID-19. We have fortunately not heard of any discrimination or violence towards Singaporeans stemming from Mr Kejriwal's comment, but this could be a possibility if such claims are not nipped in the bud and corrected.
At the same time, Singaporeans also need to be careful in not engaging in tit-for-tat behaviour by dubbing the strain the 'India virus' even if, according to Trump's logic, it originated in India. By doing so, it's simply perpetuating biases against people of a particular nationality with such imprudent use of words.
In our factchecking experience we have noted, rather worryingly, many false claims being made about Indian nationals living in Singapore. From a netizen alleging that a planned act of terrorism on two mosques was done by an Indian national to how "all sex crimes" in Singapore were committed by said individuals, what's actually more unsettling is the sheer number of netizens who vehemently agree with these claims without verifying them.
The end of the pandemic already seems as far away as it already is, with the virus evolving quicker than scientists can react. Therefore, the best we can all do in our various capacities is to always remind ourselves that the enemy is a common one, and in this fight, words really do matter.