To say that the first few days of 2021 were rainy is an understatement.
On 31 December, the Meteorological Service Singapore (MSS) said that moderate thundery showers and windy conditions were expected in the first two weeks of 2021, but this did not prepare any of us for temperatures dropping to a low of 21.1 degrees celsius on 2 January and continuous rain and thundery showers islandwide. National water agency PUB reported that as of noon on Saturday (2 January), the highest total amount of rainfall recorded at Changi since Friday (1 January) was 318.6mm, which is more than the equivalent of the average monthly rainfall for January (238.3mm). The incessant heavy rain also resulted in a small-scale landslide at Outram, slope erosion along the TPE, and warnings of potential flash floods around Singapore.
Let it…snow?
While the chillier than average weather is probably the closest to winter that Singaporeans can get, videos of apparent snow in Singapore were seen being circulated on Facebook and WhatsApp: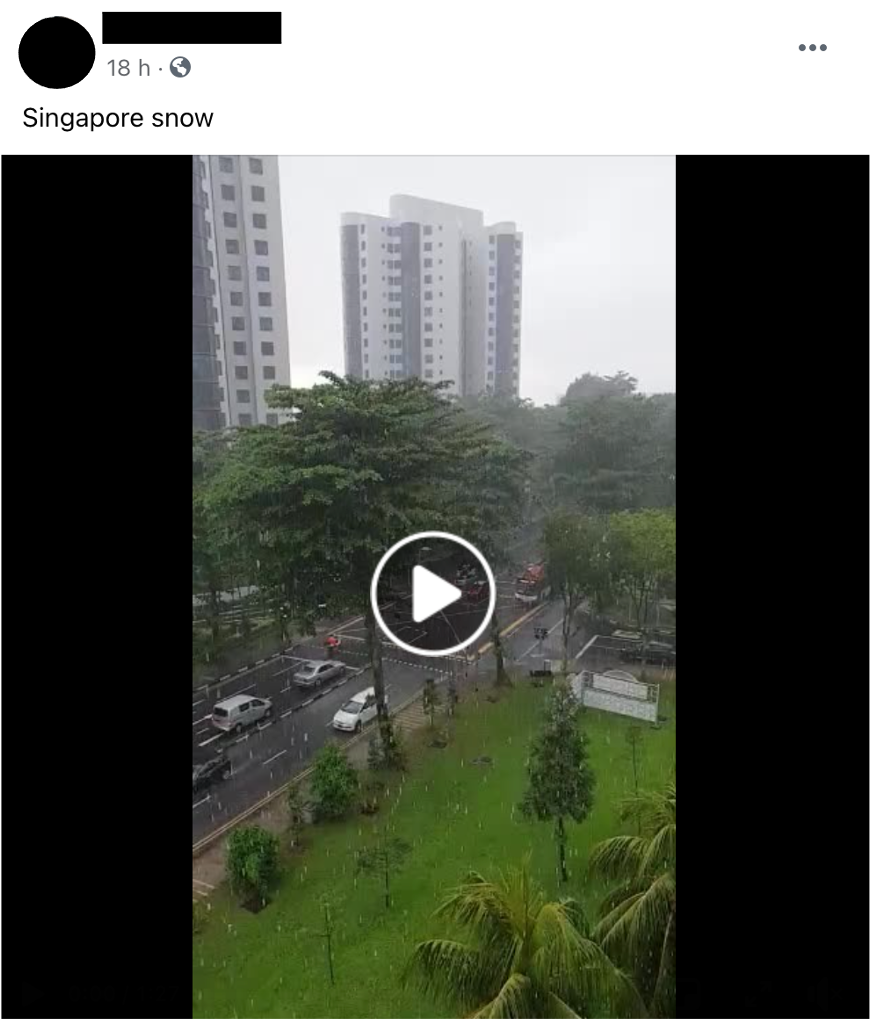 Below are the videos in full:
There have been no reports whatsoever regarding snowfall in Singapore, but did these videos somehow manage to capture something the media missed?
Not the first time claims of snow in Singapore have been made
Rewinding back to August 2020, we actually did a similar factcheck in which a Facebook user claimed that it was snowing in Bishan:
While netizens questioned the legitimacy of the video, the author of the post stood by his claim. However, one comment in particular stood out:
When we zoomed into the bottom right hand corner of the video, we noted that the individual holding the white umbrella seemed to be walking at an unnaturally slow pace. We also saw an individual near the white lorry moving very slowly. Below is a short clip of the video to illustrate the point:
When we did our own experiment and took a video of heavier rainfall in slow-motion, we see how larger raindrops could pass off as 'snow' when a video is recorded in slow-motion.
Going back to the more recent videos of 'snow' in Singapore, we notice how both also seem to be recorded in slow-motion. Below are short extracts of the videos to illustrate the point:
Therefore, the claim that it was snowing in Singapore is false.