#DiedSuddenly: Has the Covid-19 Vaccine Caused Multiple Sudden Deaths in Young, Healthy People?
In our last fact-check, we covered the unverifiable claims surrounding NFL player Damar Hamlin's collapse from cardiac arrest. While digging into the claims being made on social media, we also decided to explore the wider context in which those claims were being made.
Many fact-checking sites have tackled assertions about allegedly deadly vaccines and athlete deaths. Last month, Black Dot Research also fact-checked the case of a Korean streamer who allegedly collapsed while live-steaming due to the Covid-19 vaccine and found it to be completely false. However, despite these fact-checks, video compilations posted on Twitter and Youtube continue to feature athletes collapsing as proof of "something fishy" going on with regard to the Covid-19 vaccine.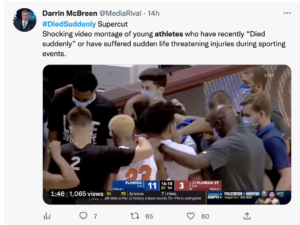 Multiple posts have also been made about various sudden deaths and health scares happening to otherwise low-risk individuals, with insinuations made about the vaccine being the root cause. Hamlin's case is just one of the most prominent examples being used in this discourse in recent months. The preponderance of such posts on social media is concerning, especially as many of these posters are presenting these occurrences as verified fact and as evidence for the COVID vaccine being harmful.
These posts have a circular and self-confirming loop – the core claim that a significant number of people have suddenly died after receiving the vaccine is supported by "evidence" of mysterious deaths. However, the disparate pieces "evidence" are only relevant or linked if the core claim is true.
Specifically, we noticed the hashtags #suddendeath2022 and #diedsuddenly accompanying a large number of tweets, with clips and images of athletes accompanied by claims that they collapsed mysteriously. These claims are often unverified and tenuously linked (if at all) to the COVID vaccine. Some incidents happened even before COVID, while some were caused by other illnesses. In some cases, the individuals who collapse did not, in fact, die – making the #diedsuddenly hashtag even less credible.
The #diedsuddenly hashtag spiked in popularity after a documentary of the same name was published in November 2022. Died Suddenly claims that the COVID-19 vaccines cause a range of different medical issues – from fertility issues to cancer, neurological issues, and heart disease. It further insinuates that these issues are causing widespread and identifiably higher death counts even in groups of people who are ostensibly low risk such as young men and athletes. The documentary was watched by over 13 million people on video sharing platform Rumble.
However, a large number of these claims are completely unverified. Platforms such as Healthline, Politifact, Factcheck, and Science-Based Medicine have conducted in-depth fact checks into Died Suddenly, pointing out inaccuracies and misrepresentations as well as countering with contradicting research. YouTube has also removed several versions of the documentary uploaded to the platform "for violating the platform's community guidelines."
Died Suddenly was produced by prominent far-right media personality Stew Peters.  Peters previously released another documentary, Watch the Water, which argued that Covid-19 vaccines are derived from synthetic snake venom as part of a conspiracy to turn people into "hybrids of Satan." Although Watch the Water has also been thoroughly debunked, Peters continues to broadcast his theories and give airtime to anti-vaccine advocates on his podcast, The Stew Peters Show. The podcast was removed from Spotify in 2021 for spreading harmful misinformation about Covid-19, but is currently available on other platforms.
Despite the above fact-checking, #diedsuddenly continues be heavily uses – as evidenced by the recent Hamlin case. Over the past week from the day of writing, #diedsuddenly was used in over 100,000 tweets. Also on twitter, a post made recently by @DiedSuddenly (an account associated with the documentary) has already garnered 34.1k views, 551 likes, and 93 retweets, with replies echoing their agreement and support.
The claim that otherwise healthy individuals are dying from COVID vaccines in increased numbers has also been made in local Singaporean groups and social media. Some users have been pointing to incidents of young men collapsing at allegedly higher rates than ever, while others are posting accounts of sudden deaths while insinuating a link with the vaccine. For instance, the recent passing of Creative Technology's founder, Sim Wong Hoo has already been circulating in these groups and social media spaces.
At the time of writing, the Ministry of Health has a list of fact-checks and clarifications surrounding Covid-19. MOH stresses that authorised vaccines in Singapore are being continually reviewed are safe and effective against Covid-19. We also took a quick look at Singapore's yearly statistics published by the Government to see if there any truth to these claims. While heart and hypertensive diseases were a leading cause of death in 2021 (which is when the vaccines were rolled out in Singapore),  this has been the case for several years in Singapore, and does not specifically imply a link to COVID-19 or the vaccine.
As the chart below shows, when comparing the number of deaths in Singapore for the agegroups 10-19, 20-29, and 30-39, 2021 actually saw a decrease in number of deaths. This is also the case when comparing the 2021 statistics against other years such as 2005, 2013 and 2014 (pictured in Table X). What this suggests is that there has not been a significant or documented increase deaths – particularly in younger individuals – after the COVID vaccine was introduced.
While it seems unlikely that fact-checks on claims about the Covid-19 vaccine will completely eradicate misinformation about vaccines and alleged vaccine deaths, being equipped with counter-arguments and official statistics is a useful tool when encountering such claims online or in person. Remaining sceptical and carrying out additional research on claims presented as well-evidenced fact is also key to making informed choices and combating misinformation.