We came across this post being shared on former Singapore foreign minister George Yeo's Facebook account: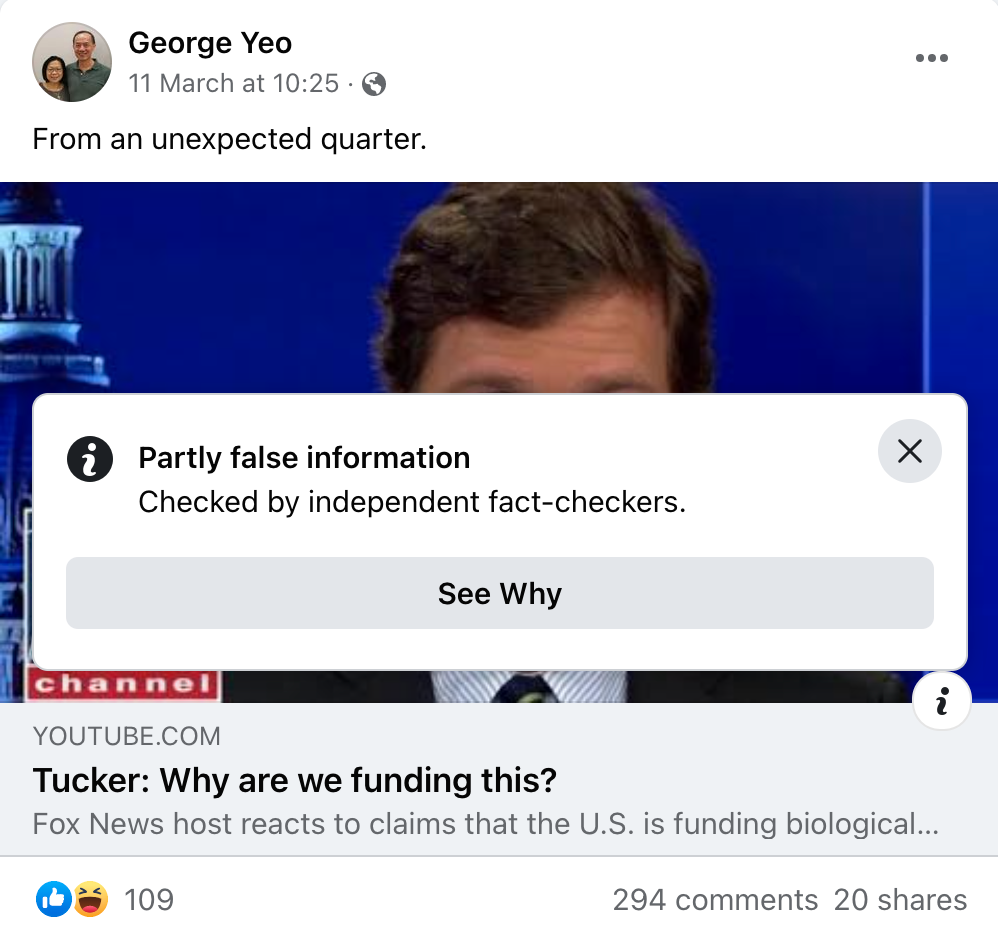 As seen, the link shared by Mr Yeo has been declared to contain "partly false information" by Facebook.
For some context, Mr Yeo shared a link to a video on Fox News' Youtube channel, where we see host Tucker Carlson talking about "secret bio labs in Ukraine":
In the video and the accompanying article, Carlson zoomed in on an exchange that Victoria Nuland, the US Under Secretary of State for Political Affairs had with US Senator for Florida, Marco Rubio during a hearing on Russia's invasion of Ukraine by the US Senate Foreign Relations Committee. The hearing was held on 9 March 2022.
During the hearing, Rubio had asked if Ukraine has chemical or biological weapons, to which Nuland replied: "Ukraine has biological research facilities, which, in fact, we are now quite concerned Russian forces may be seeking to gain control of."
"So, we are working with the Ukrainians on how they can prevent any of those research materials from falling into the hands of Russian forces should they approach," she continued.
Carlson jumped onto Nuland's response, saying that "not only does Ukraine have secret bio labs [but] whatever they're doing in those labs is so dangerous and so scary that [Nuland] is, 'quite concerned' that the so-called research material inside those bio labs might fall into the hands of Russian forces".
Carlson declared incredulously: "Under oath in an open committee hearing, [Victoria] Nuland just confirmed that the Russian disinformation they've been telling us for days is a lie and a conspiracy theory and crazy and immoral to believe is, in fact, totally and completely true."
"US-led bio labs" is an ongoing hot topic
As you remember, we previously debunked this claim after we came across social media posts alleging that Russia is destroying US military-owned bio labs: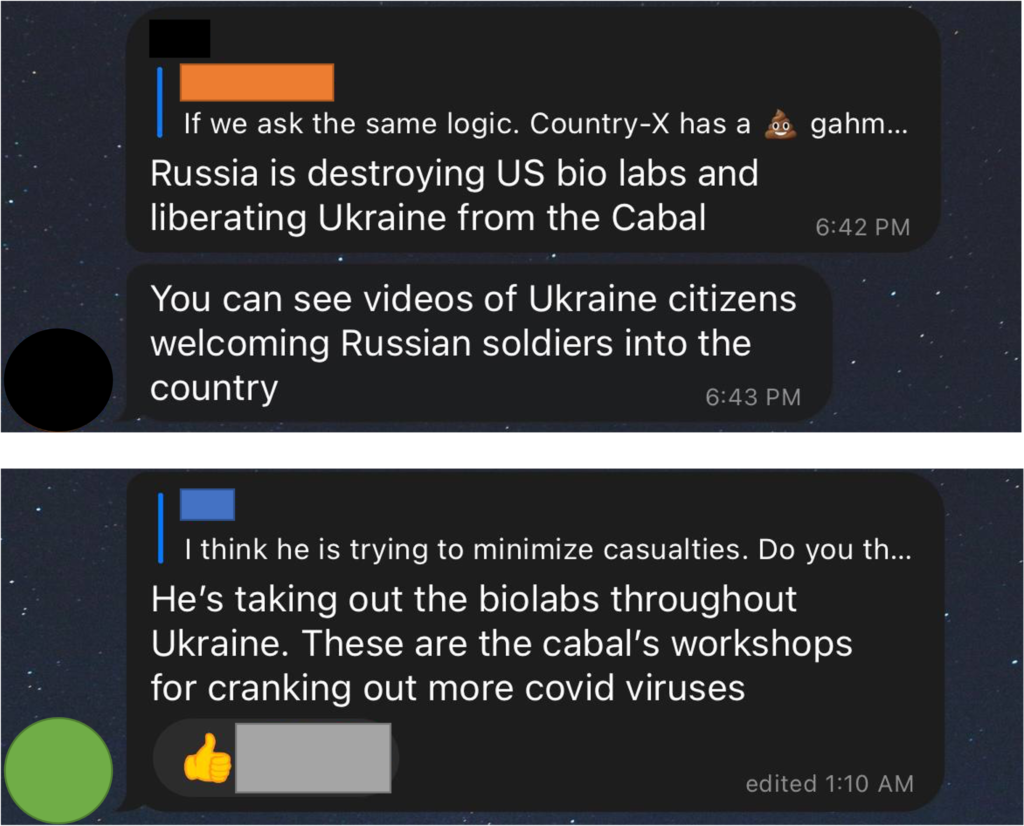 Referring to factchecks by various publications, we read that the claim actually stemmed from a fact that was distorted.
As pointed out by Snopes, the Ministry of Health of Ukraine and the Department of Defense of the United States of America did enter into an agreement in 2005, however it was reportedly to "stem the threat of bio-terrorism by placing safeguards on deadly pathogens dating from a Soviet-era biological weapons program".
A factcheck by PolitiFact also quoted Andy Weber, a member of the Arms Control Association Board of Directors and a former assistant secretary of defense for nuclear, chemical, and biological defense programs, who clarified that there are no US military-run labs in Ukraine, but rather, "the US Department of Defense Cooperative Threat Reduction Program has provided technical support to the Ukrainian Ministry of Health since 2005 to improve public health laboratories".
In addition to these clarifications, a more recent factcheck by PolitiFact which directly addresses Carlson's video clarified that while there are indeed labs in Ukraine backed by the United States, the European Union, Canada and the World Health Organisation, these labs "work with a number of pathogens, including the ones that cause anthrax, plague and hemorrhagic fever in humans" and "study viruses that affect birds and pigs".
PolitiFact also reiterates that contrary to what Carlson and other claims have said, the labs are not 'secret', and the Global Partnership Working Group, a multilateral body, lists the domestic institutes and agencies that run these labs in its annual reports. It added that for at least two years, the US Embassy in Ukraine had a page on its website that described the US role in these facilities.
The US Defense Department had even said on 11 March that when the Russian attack began, "the Ukrainian Ministry of Health responsibly ordered the safe and secure disposal of samples. These actions limit the danger of an accidental release of pathogens should Russia's military attack laboratories."
Gregory Koblentz, director of the Biodefense Graduate Program at George Mason University, also testified that they are "all public health and veterinary labs [and] none of them have been involved in biological warfare."
He added: "The reality is that a real biological weapon program has additional requirements, such as formulating an agent to be able to be mass-produced and stable enough to be stored and disseminated. These are not activities that most public health labs are capable of doing. […] They can diagnose a disease but not conduct the more advanced work to convert a pathogen into a biological weapon."
It is also important to note that the claims about US military-run have been lurking since 2020, before the Russia-Ukraine invasion happened.
Following such claims being circulated on social media in 2020, the Kyiv Post reported about the Security Service of Ukraine (SBU) clarified that "no foreign biological laboratories operate in Ukraine", and that the 2005 Agreement simply included the modernisation (repair work, updating of equipment, purchasing of supplies) of "a number of state laboratories".
The SBU also reiterated that the labs are "financed from the state budget, are subordinate to the Ministry of Health and the state service on food safety and consumer protection", and that "cooperation between Ukraine and the United States on countering biological terrorism takes place exclusively within the framework of Ukrainian legislation and in the interests of Ukraine".
Reactions to George Yeo's post
A number of Facebook users have expressed their disapproval and disappointment for Mr Yeo's seemingly indiscriminate sharing of an unreliable source of information:
It is important to note that while Mr Yeo's caption "From an unexpected quarter" does not make it immediately apparent as to whether or not he fully endorses the claims made, his silence and lack of clarification even after backlash from commenters and how the video was deemed as partly false by independent fact-checkers is indeed deafening.
Regardless, the claims that there are US-funded bio labs in Ukraine which are creating bioweapons is false.