Was former Twitter CEO Parag Agrawal arrested for child porn?
 On December 23, a news report began circulating on twitter which appeared to suggest that former Twitter CEO Parag Agrawal had been arrested for child porn. The report was posted on The Vancouver Times, and claimed that the arrest was made "after a tip off from Elon Musk."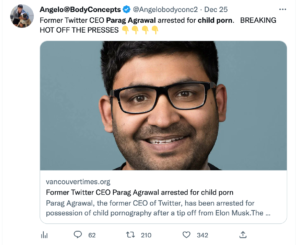 Based on fact checks carried out by platforms such as AFP and Snopes, no arrest records exist in either San Francisco or Los Angeles, nor have any reputable news sources picked up the story. Digging deeper, it appears that The Vancouver Times claims to be a satirical site that publishes "inaccurate reports for the purpose of satire," particularly writing satirical stories about "issues that affect conservatives." This claim is therefore untrue.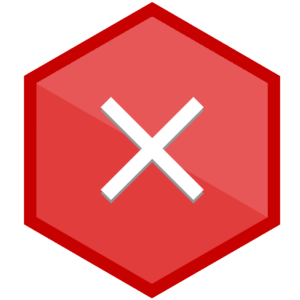 The article seems to have been written in response to the existing child sexual exploitation material problem that exists on Twitter – one which was faced by both past and current CEOs and continues to be an issue for serious debate and discussion online.
However, despite The Vancouver Time's claims that their satirical articles are easily recognisable as such, this particular article was widely shared with reactions from users who seemed to take it very seriously. The headline and preview text visible in the shared link further gives the impression of being a factual news article at first glance – particularly as The Vancouver Times does not have the immediate name recognition as a satirical site (unlike, for instance, The Onion).
A look at the article page itself also shows comments responding as though the article was reporting actual news. As Snopes points out, The Vancouver Times has also occasionally reported on real news stories, further blurring the line between satire and news.
While a disclaimer has recently been added to this particular article and multiple fact checking sites have posted checks discrediting the news, it is still being shared on different social media platforms –  garnering outraged responses from users who may not go on to look for further information or corroboration.
Satirical news sites are, therefore, yet another potential source of disinformation that can be hard to identify. Even if their original subversive intent is to mock and parody certain positions, people or viewpoints, this case shows how their content can be taken seriously and widely circulated. This case also highlights the importance of closely monitoring the credibility of any news site before sharing or circulating their reporting. It also suggests a need for such sites to clearly and prominently insert disclaimers before publishing such content.