We came across the following image on the social media platform Reddit:
The image is a screenshot of what appears to be a tweet from Donald Trump Jr., Trump's son, on the social media platform X (formerly Twitter). The post's caption appeared to be a satirical suggestion that the account was hacked. Many users in the comment appeared to agree that the account was hacked, though a few comments seemed to accept the tweet as indicating the truth.
The tweet appeared to be sent in the morning (US time) of Wednesday, 20 September. The post with the image received over 35,000 upvotes on Reddit, and at the time of the screenshot hundreds of retweets.
Further searches led us to images of other highly incendiary posts on the account, with tweets denigrating US President Joe Biden and YouTube personality Logan Paul, and one in support of Richard Heart, an entrepreneur who has been charged with crpytocurrency-related fraud by the US Securities and Exchange Commission. One tweet also said 'North Korea is about to get smoked', alluding to an imminent attack on the country.
When we visited Trump Jr.'s X/Twitter page, we found no sign of the Twitter posts. However, a web search led us to an article on the Washington D.C.-based newspaper The Hill, which reported that a unnamed representative for Trump Jr. had confirmed Trump Jr.'s account to have been hacked.
The hack also appeared to be confirmed by a spokesman named Andrew Surabian (@Surabees) on X/Twitter. Surabian had previously been quoted as a spokeman for Trump Jr. in Newsweek in 2019.
Other web sources led us to the original tweet, which had been captured by the web archive tool wayback machine. It can therefore be confirmed that the tweet had been sent from Trump Jr.'s account and later deleted.
While we could find no direct statement from Trump, Trump Jr. or X on the deleted tweets, a search of Donald Trump's whereabouts on 20 September revealed that he had been on the election campaign trail in Iowa, and had been giving a rally at 3pm, hours after the tweet had been posted.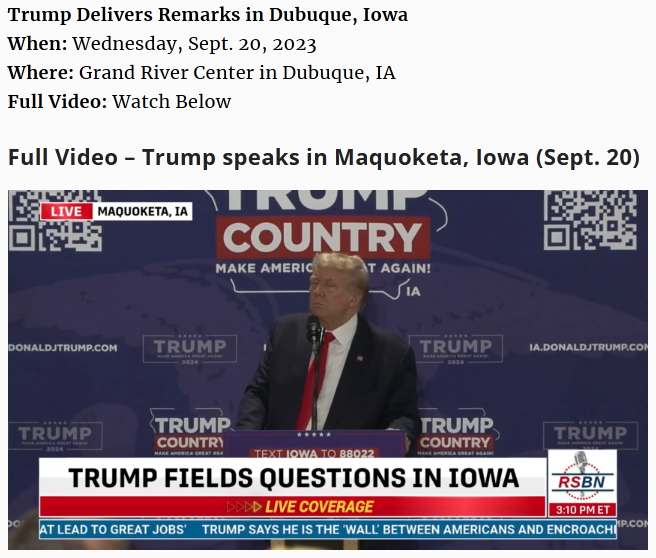 It is therefore false that Donald Trump is dead, and it is untrue that Trump Jr. plans to replace him in the presidential election race.
While there is no conclusive proof that Trump Jr.'s account was hacked, there is no evidence that any of the assertions tweeted are true. As such, it is also very likely false that a US attack on North Korea is imminent. The news had also been assessed by US-based factchecker Snopes, which found 'no reason to doubt the legitimacy of claims that the account was hacked'.